TOUGHLIQUID Ultra 240 All-In-One Liquid Cooler
Der TOUGHLIQUID Ultra 240 Wasserkühlung ist ein All-in-One-Liquid-Cooler mit unserem neuesten LCD-Display, das Echtzeitinformationen über das System anzeigt und sogar GIF-Dateien mit einer Auflösung von 480*480 wiedergibt. Er ist außerdem mit TOUGHFAN 12 Turbo-Lüftern ausgestattet, die hervorragende Kühlergebnisse bei minimaler Geräuschentwicklung liefern.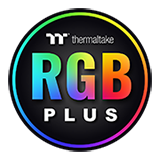 2,1-Zoll-LCD-Display mit Drehfunktion
Ein drehbares 2,1-Zoll-LCS-Display, das Informationen in Echtzeit anzeigt und sogar JPG- und GIF-Dateien mit 480*480 Auflösung abspielen kann, was Ihrem Gerät eine großartige visuelle Ästhetik und hochgradig anpassbare Funktionen verleiht für den All-in-One-Cooler

Caution: The cap can only rotate from 0 to 270 degrees.
(See here)
TOUGHFAN 12 Turbo Equipped
Der TOUGHLIQUID Ultra 240 ist mit zwei TOUGHFAN 12 Turbo-Lüftern ausgestattet. Die helfen, die Lüfterdrehzahl auf bis zu 2500 Umdrehungen pro Minute zu steigern und gewährleisten dabei beste Kühlergebnisse, egal ob Sie arbeiten oder spielen.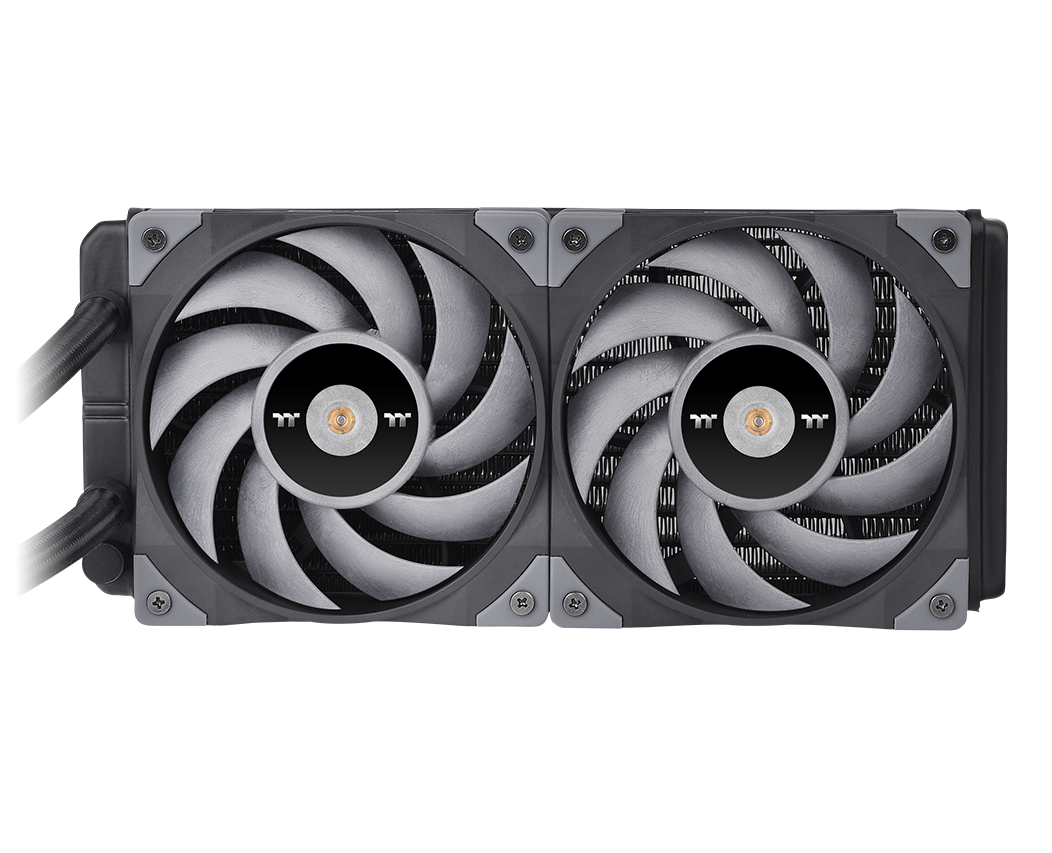 Hochleistungs-Kühlplatte
Die Hochleistungs-Kupfergrundplatte sorgt für schnellere Wärmeleitung. . Die hochwertige und zuverlässige Pumpe ermöglicht eine optimale Wasserzirkulation Wasserzirkulation und hält die Kupferplatte kontinuierlich kühl. Das niedrige Verdampfungsrohr vermindert effektiv den Verlust der Kühlflüssigkeit; daher ist kein Nachfüllen erforderlich.
Vollständig konfigurierbar mit TT RGB Plus 2.0
Überwachen Sie die Frequenz und die Echtzeit-Temperatur direkt von unserem 2,1-Zoll-LCD-Display, und laden Sie ein beliebiges Bild oder eine GIF-Datei hoch, um mit der Software TT RGB Plus 2.0 ein zusätzliches Flair zu schaffen.
Caution: The TOUGHLIQUID Ultra Series is only supported by the TT RGB Plus 2.0.
Check out more animated GIFs for your AIO displays here.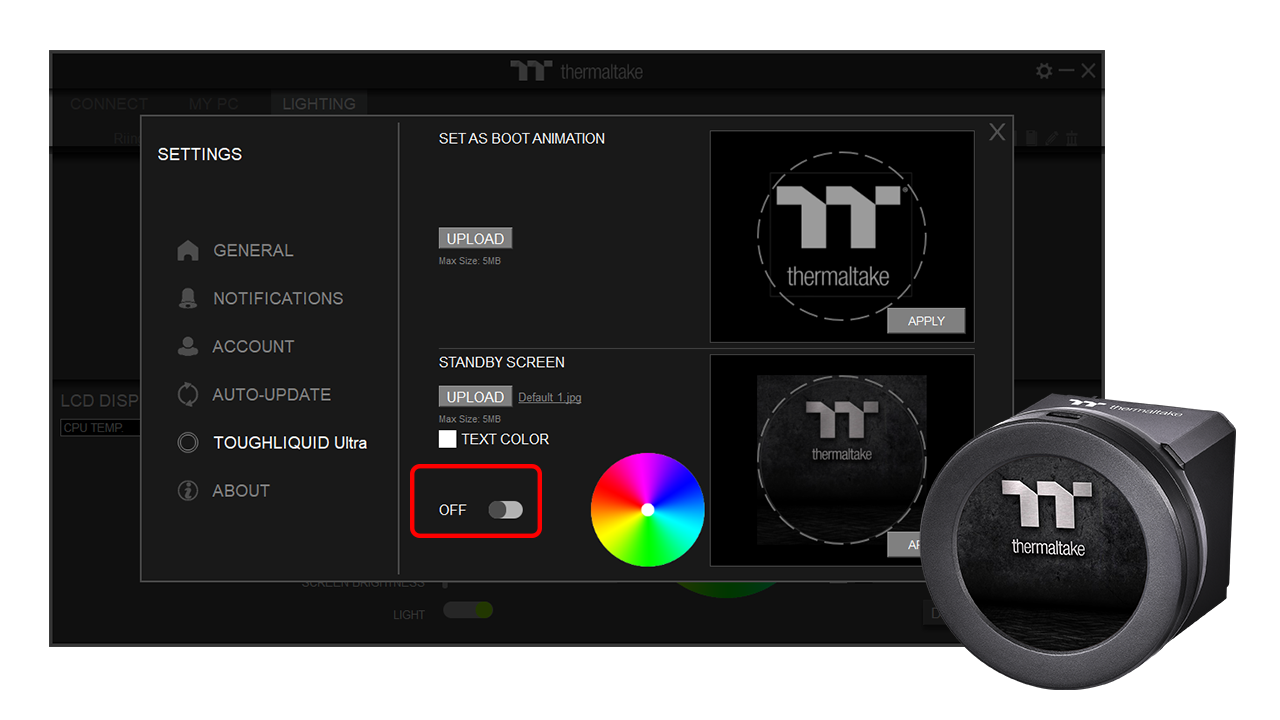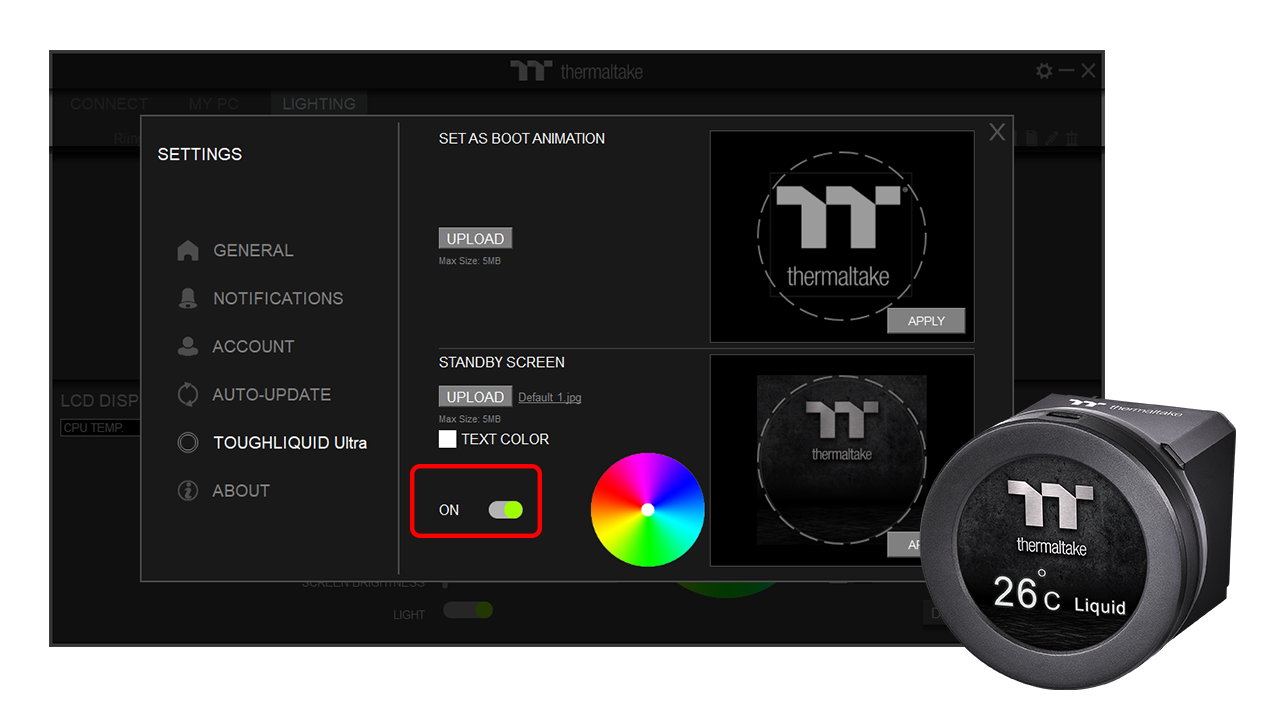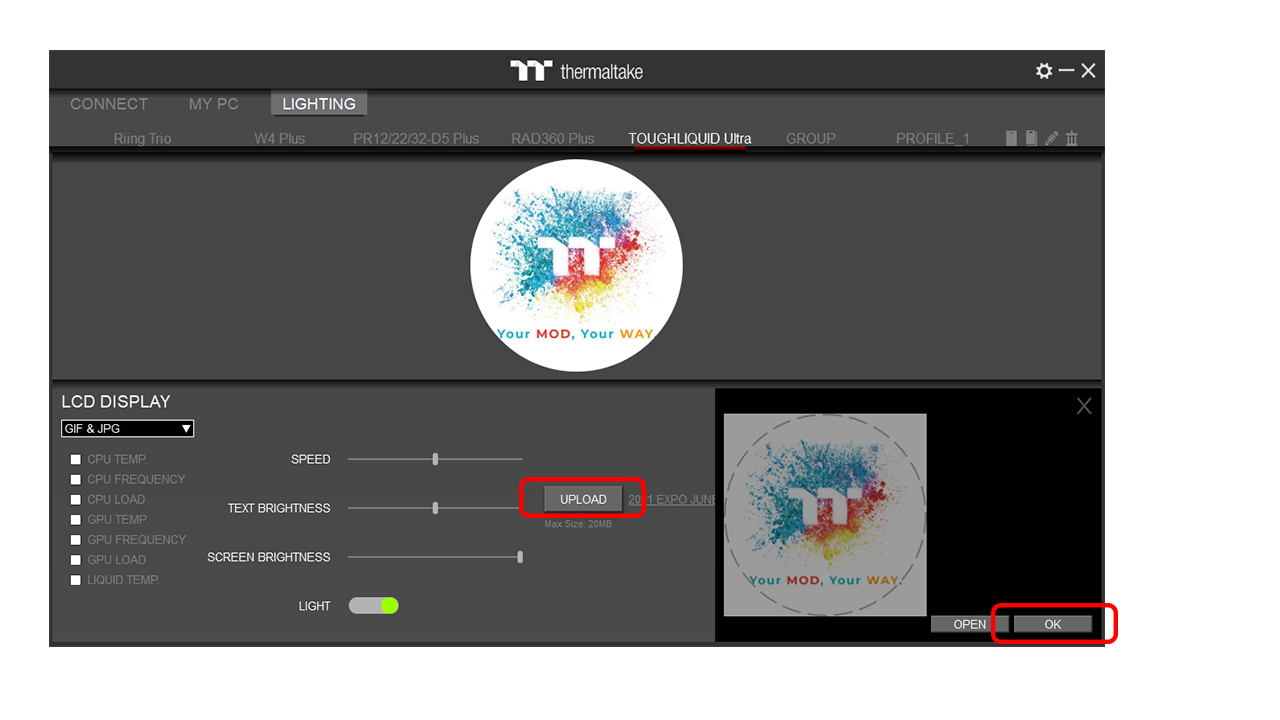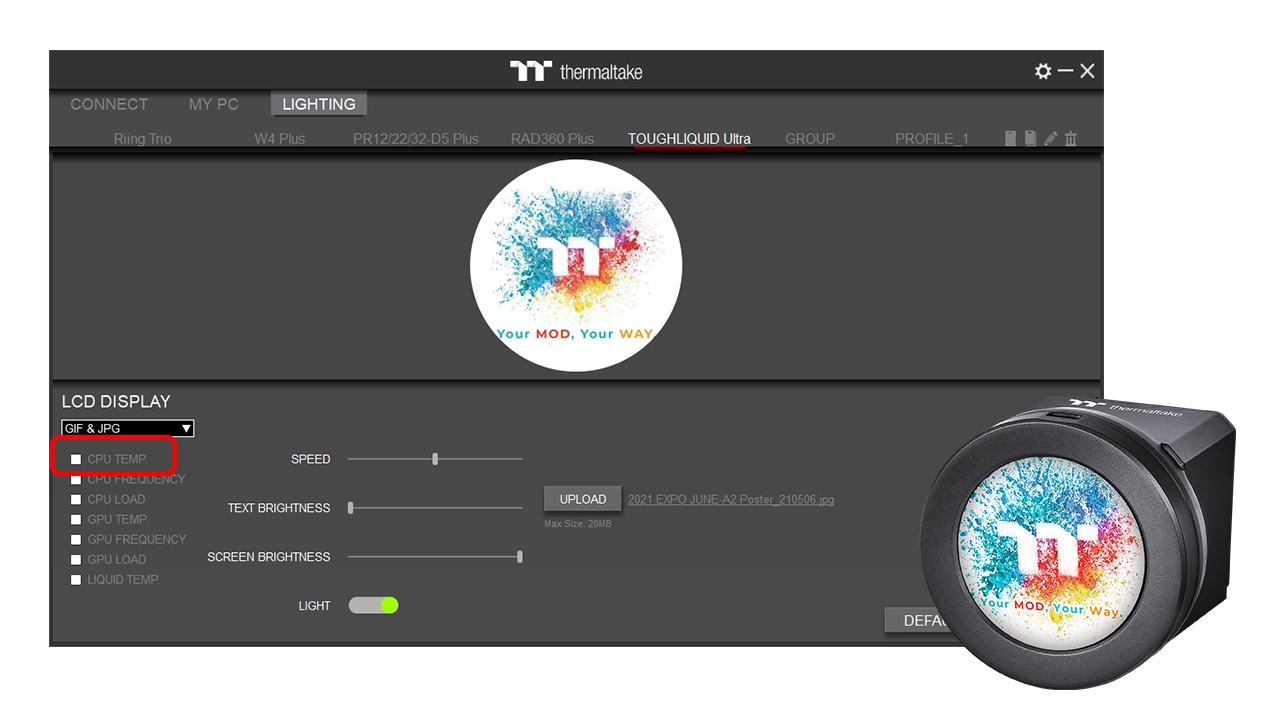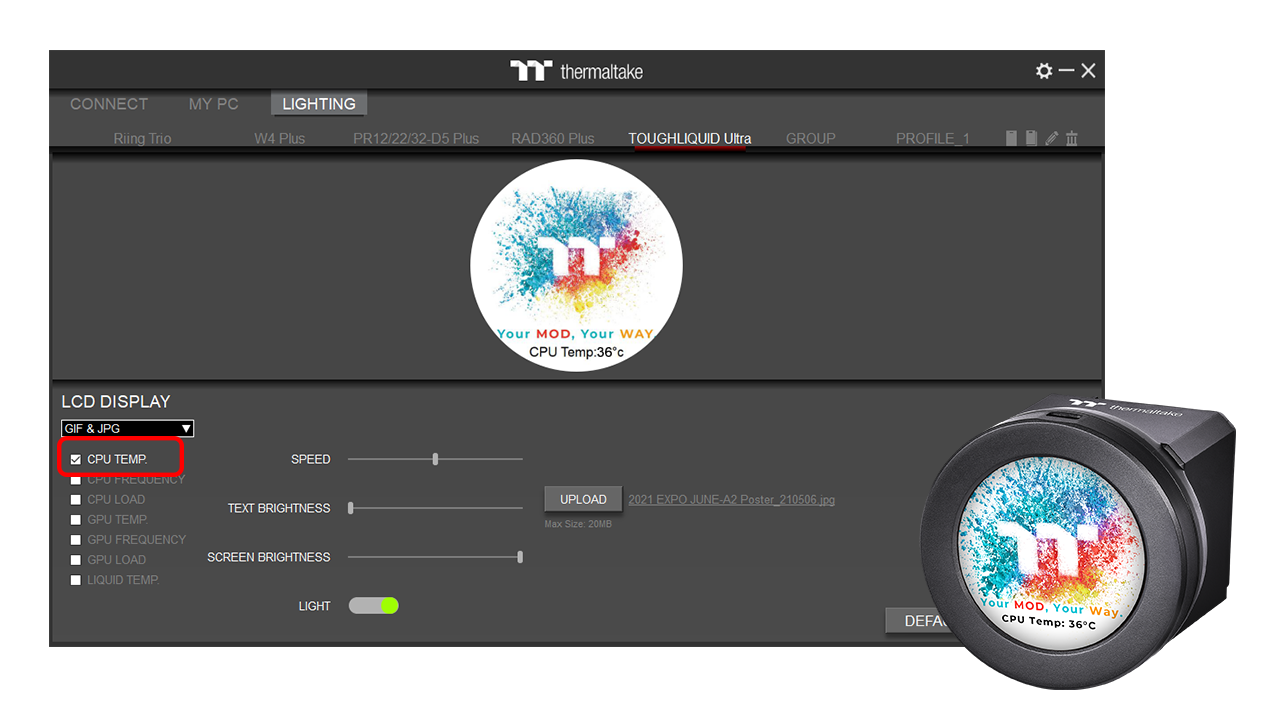 Start-up & Standby Screen Setting
TT RGB PLUS 2.0 Software
The new version of Thermaltake's TT RGB PLUS patented software, providing more lighting effects and PC monitoring functions.

Caution:
TT RGB PLUS 2.0 and TT RGB PLUS 1.0 will overwrite one another; users can only install one version of TT RGB PLUS.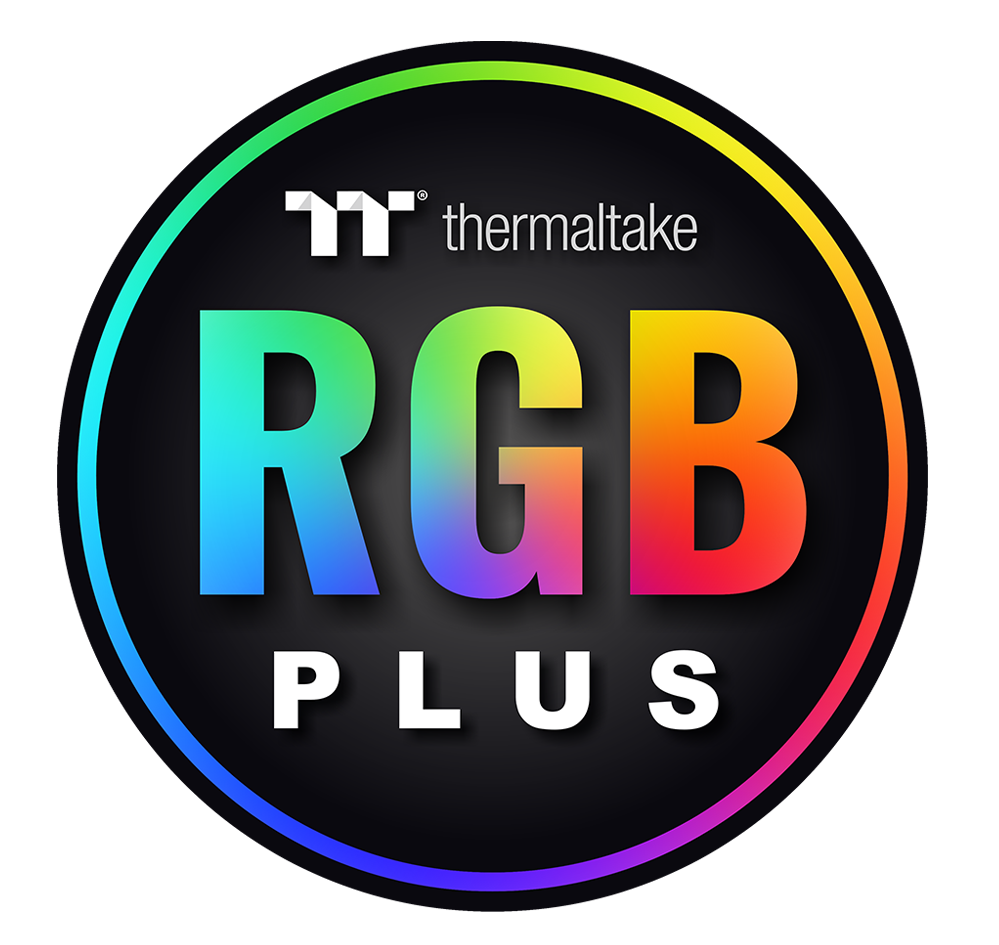 Sync with Razer Chroma Lighting
All Thermaltake TT RGB PLUS products are able to connect into the Razer Chroma ecosystem, Razer Synapse 3. Users can experience synchronized gaming and RGB lighting effects on their TT RGB PLUS liquid cooling system and Razer gaming gear!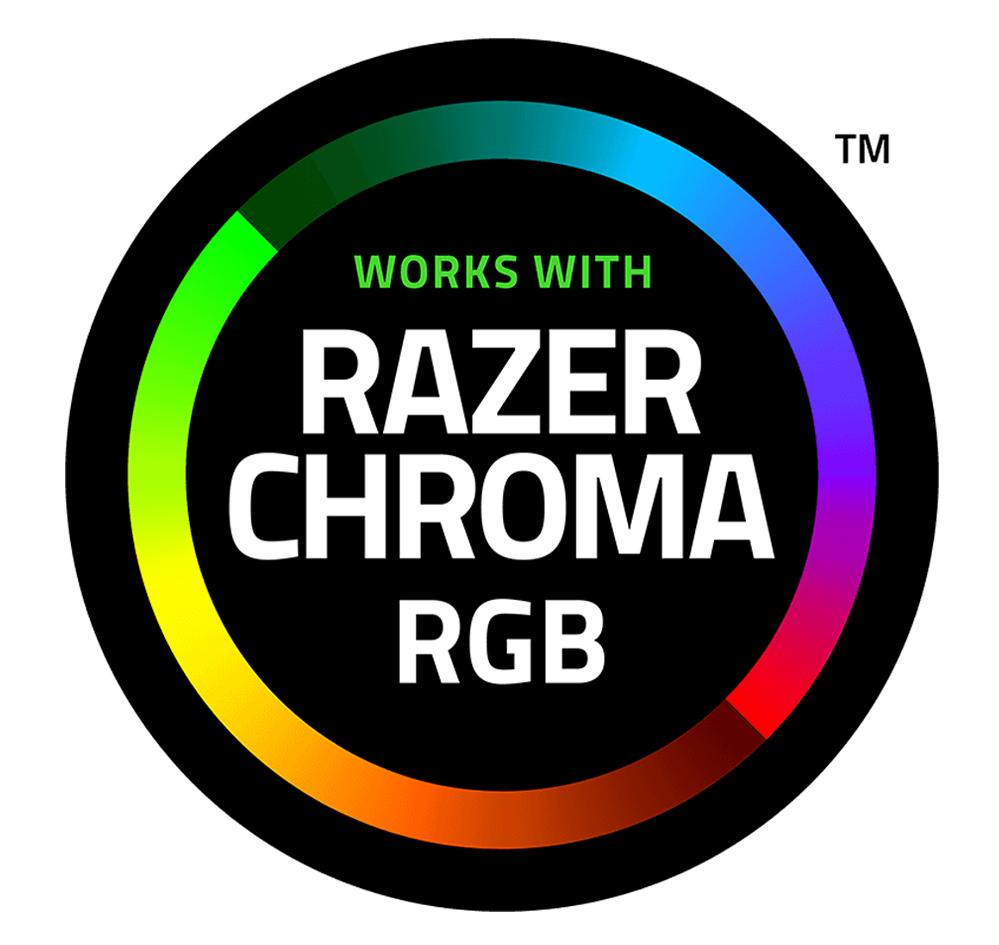 Works with Amazon Alexa
All Thermaltake TT RGB PLUS products support Amazon Alexa Voice Service, allowing you to give voice commands to the Alexa-enabled devices.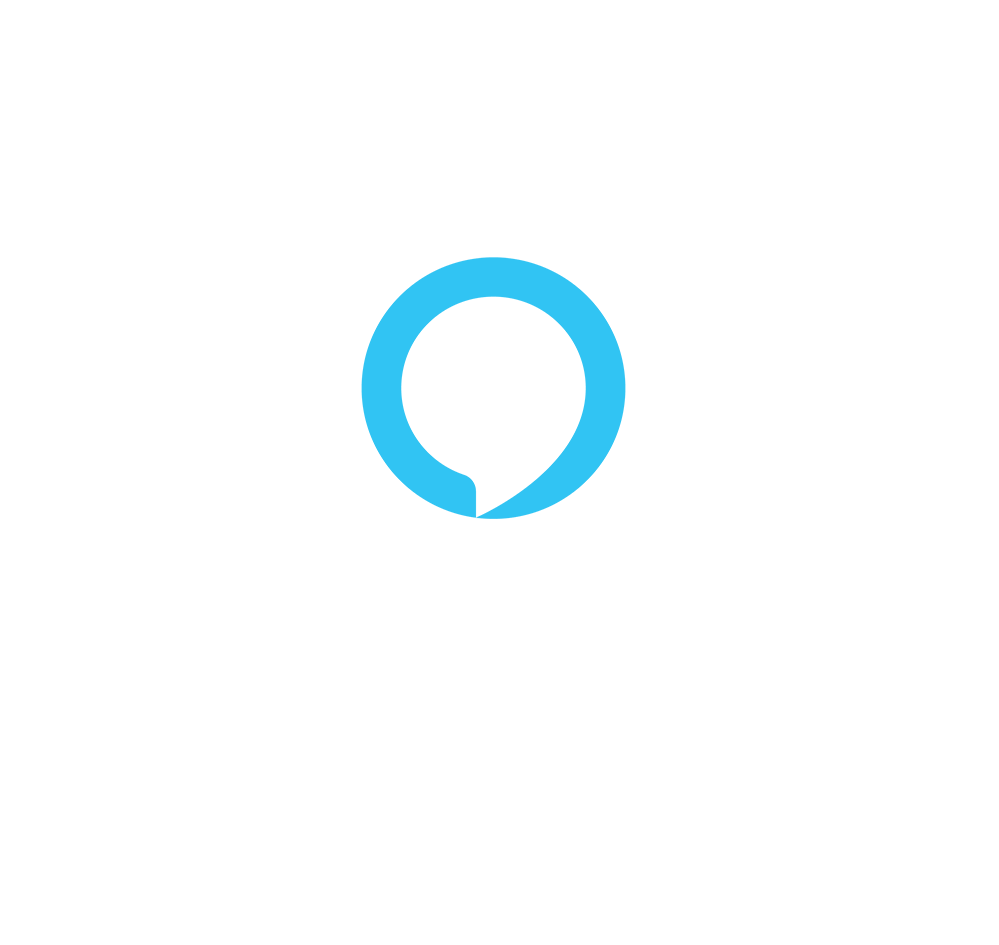 Mehr Informationen
P/N
CL-W322-PL12GM-A
Pump
Motordrehzahl : 3200 RPM
Nennspannung : 12V
Nennstrom : 0.38A
Leistungsaufnahme : 4.56W
CPU Display
Nennspannung : 5 V
Leistungsaufnahme: 11,5 W
Anzeigeart: 2,1" TFT-LCD
Display-Auflösung: 480x480 (RGB) px
Display Support
Interface: Micro USB auf USB (9PIN)
System-Kompatibilität: Windows 7 / 8 / 8.1 / 10
Water Block
Material : Kupfer
Fan
Abmessungen: 120 x 120 x 25 mm
Geschwindigkeit : PWM 500~2500 U/MIN (2510-4PIN)
Geräuschpegel : 28.1 dB-A
Leistungsaufnahme : 2,76 W (ein Lüfter)
Nennspannung : 12 V
Nennstrom : 0.23A (ein Lüfter)
Max. Luftdurchsatz : 72,69 CFM (ein Ventilator)
Max. Druck : 3,78 mm-H2O (ein Ventilator)
Tube
Länge : 400 mm
Material : Gummi
Radiator
Abmessungen: 273 x 120 x 27 mm
Material: Aluminium
Compatibility
CPU Sockel
Intel LGA 2066/2011-3/2011/1366/1200/1156/1155/1151/1150
AMD AM4/AM3+/AM3/AM2+/AM2/FM2/FM1
User Manual
Dateiname
Beschreibung
Größe
Version
Release Date
Drivers & Software
Dateiname
Beschreibung
Größe
Version
Release Date