Thermaltake Debuts TOUGHFAN 12 High Static Pressure Radiator Fan in Turquoise and Racing Green
Powerful, Silent, and Colorful

Taipei, Taiwan-September 1st, 2021-Thermaltake, the leading PC DIY premium brand for Cooling, Gaming Gear, and Enthusiast Memory solutions, debuts the new TOUGHFAN 12 High Static Pressure Radiator Fan in Turquoise and Racing Green to add some flair to the original TOUGHFAN series while continuing to achieve supreme cooling results. The new fans are also new models of our multicolored series, users now can match up the same Turquoise, and Racing Green colored chassis or memory to form the ideal PC build and to accomplish the "Your MOD, Your Way" spirit.

Inheriting all the merits of the original TOUGHFAN 12 series, the TOUGHFAN 12 Turquoise/Racing Green High Static Pressure Radiator Fan delivers quiet cooling performance, outstanding stability, and a superior lifespan. Featuring the high static pressure fan with PWM-control, the TOUGHFAN 12 Turquoise/Racing Green High Static Pressure Radiator Fan can perform at a maximum operating speed of up to 2000 RPM but maintains a low audio noise level of only 22.3 dB-A. The fan blade is made from liquid crystal polymer (LCP) compounds that are extremely tensile in strength; their low thermal expansion coefficient can reduce the fan's vibration under full-speed loading. Notably, the fan blades of Turquoise are in the color of light gray with a pearl reflection, while the Racing Greens are in charcoal black with a metallic reflection; the perfect match of color pushes the beauty of TOUGHFAN 12 to another level.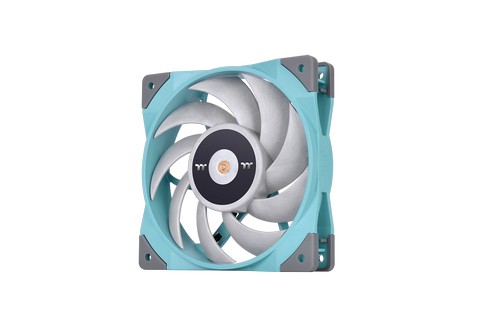 TOUGHFAN 12 Turquoise High Static Pressure Radiator Fan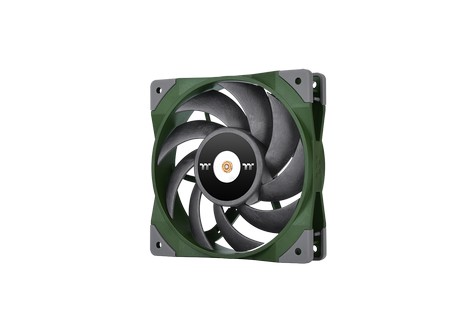 TOUGHFAN 12 Racing Green High Static Pressure Radiator Fan

To enhance the stability and durability as well as lowering noise level while the fan is operating, the centerpiece of the TOUGHFAN 12's motor hub is made of full steel, and has a copper housing that reinforces the shaft. The anti-vibration rubber pads attached to the corners also help dampen the vibration, giving protection for both the fan and the case. Additionally, The TOUGHFAN 12 is equipped with an optimized second-generation hydraulic bearing. The unique structure design allows lubricant to concentrate in lubricating the critical areas, better-reducing friction and further extending the fan's lifespan.

For PC enthusiasts who are eager for a powerful, silent, and colorful fan for your PC, the new TOUGHFAN 12 Turquoise/Racing Green High Static Pressure Radiator Fan will be the perfect option for you!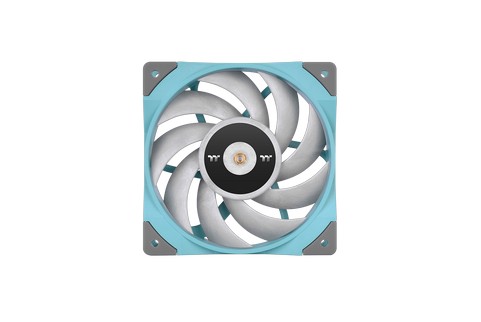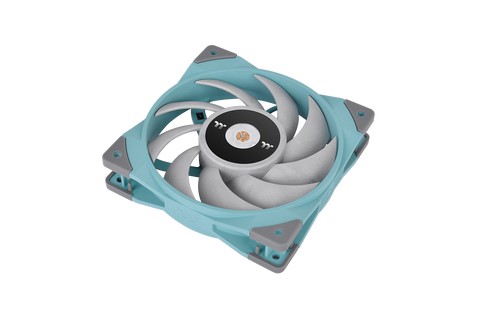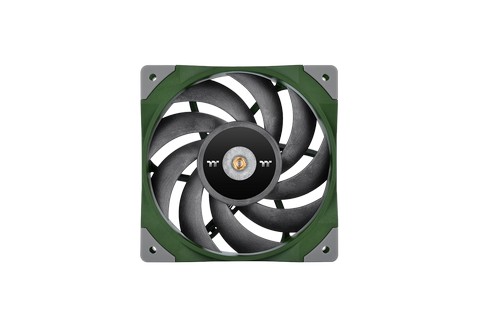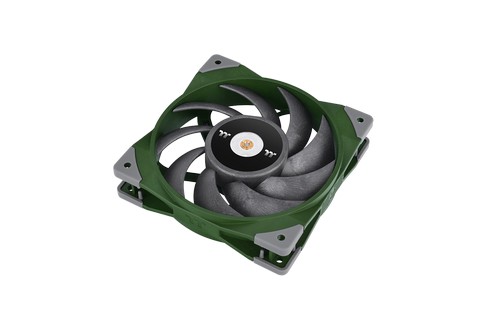 Features of TOUGHFAN 12 Turquoise/Racing Green High Static Pressure Radiator Fan:
Color Your Style
The TOUGHFAN 12 High Static Pressure Radiator Fan in Turquoise and Racing Green are new editions to the TOUGHFAN series that allow users to match up the same Racing Green colored chassis or memory to form your ideal PC build.

Powerful and Noiseless
The TOUGHFAN 12 Turquoise/Racing Green High Static Pressure Radiator Fan can perform at a maximum operating speed of up to 2000 RPM, producing a consistent airflow of 58.35 CFM with 2.41 mm-H2O static pressure, and maintaining a low audio noise level of 22.3 dB-A.

Metal-Reinforced Motor Hub
The TOUGHFAN's center is constructed with a full steel motor hub providing enhanced stability and durability.

The 2nd Generation Hydraulic Bearing
The 2nd generation hydraulic bearing incorporates a new shaft design with inside etches allowing preservation of lubricant on both sides whilst reducing noise during operation. Lowering audible levels and extending lifespan.

Exceptional Blade Design
Featuring high tensile strength and low thermal expansion coefficient materials, mixed with a light gray pearl reflection paint that matches the Turquoise color, and a charcoal black metal reflection paint that matches the Racing Green color; the fan blade is built with special liquid crystal polymer (LCP), a compound which minimizes vibration when the fan is operating at full speed.

Anti-Vibration Mounting System
The in-mold injection anti-vibration rubber pads dampen the vibration of the fan allowing the fan to spin at higher levels without compromising noise levels.

Availability, Warranty, and Pricing
The TOUGHFAN 12 Turquoise/Racing Green High Static Pressure Radiator Fan will be available for purchase in September 2021 via the Thermaltake worldwide network of authorized retailers and distributors. Fans are backed by a two-year warranty and supported by the Thermaltake worldwide customer service and technical support network. For up-to-date pricing of TOUGHFAN 12 High Static Pressure Radiator Fan in Turquoise and Racing Green, please refer to the Thermaltake website or contact your local Thermaltake sales or PR representative.

For more details on TOUGHFAN 12 Turquoise/Racing Green High Static Pressure Radiator Fan, please visit:
Turquoise –
https://www.thermaltake.com/toughfan-12-turquoise-high-static-pressure-radiator-fan-single-fan-pack.html

Racing Green –
https://www.thermaltake.com/toughfan-12-racing-green-high-static-pressure-radiator-fan-single-fan-pack.html

Buy links:
Turquoise
TT Premium USA – https://www.ttpremium.com/product/toughfan-12-turquoise-high-static-pressure-radiator-fan-single-fan-pack/
TT Premium Europe - https://ttpremium.eu/toughfan-12-turquoise-high-static-pressure-radiator-fan-single-fan-pack.html
TT Premium Australia - https://ttpremium.com.au/toughfan-12-turquoise-high-static-pressure-radiator-fan-single-fan-pack.html
TT Premium Asia – https://asia.ttpremium.com/product/toughfan-12-turquoise-high-static-pressure-radiator-fan-single-fan-pack/

Racing Green
TT Premium USA – https://www.ttpremium.com/product/toughfan-12-racing-green-high-static-pressure-radiator-fan-single-fan-pack/
TT Premium Europe - https://ttpremium.eu/toughfan-12-racing-green-high-static-pressure-radiator-fan-single-fan-pack.html
TT Premium Australia - https://ttpremium.com.au/toughfan-12-racing-green-high-static-pressure-radiator-fan-single-fan-pack.html
TT Premium Asia – https://asia.ttpremium.com/product/toughfan-12-racing-green-high-static-pressure-radiator-fan-single-fan-pack/