Thermaltake Announces The Top 3 Winners of
2021 Thermaltake RAM MOD Invitational Season 1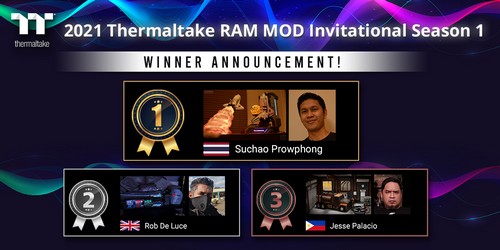 Taipei, Taiwan-July 1st 2021-Thermaltake, the leading PC DIY premium brand for Cooling, Gaming Gear, and Enthusiast Memory solutions, is elated to announce the winner list of the 2021 Thermaltake RAM MOD Invitational Season 1. In first place is Suchao Prowphong from Thailand, in second place is Rob De Luce from the U1nited Kingdom and in third place is Jesse Palacio from the Philippines.

2021 Thermaltake RAM MOD Invitational Season 1 proudly invited 8 renowned modders from Belgium, Canada, France, Germany, the Philippines, Thailand, the United Kingdom and the United States to get involved in this exhilarating event. The contestants were required to modify the TOUGHRAM heatsinks, without changing the overall appearance and layout of the TOUGHRAM itself in a given time. In these months, all modders have shown their amazing modding skills and ingenious creativity on the original builds to bring the new vibe to the TOUGHRAM.

Noteworthy, this event was also introduced at the 2021 Thermaltake EXPO June, and it received a lot of positive feedback from both modding enthusiasts and the public. Thermaltake would like to congratulate the top three winners and express our gratitude to all participants for their efforts to put this event to another level. Hope to see you all again at the events in the near future!

Meet the Winners
1st Place [Suchao Prowphong]: By using many different techniques and materials, it is Suchao's perfection-seeking made the "TT TOUGH SPACE" vivid in every aspect from spacecraft to Martian surface. This incredible design also blows both judges and the audience away. Congratulations on winning first place!

2nd Place [Rob De Luce]: With the sophisticated modding and crafting skills showing in detail, the completeness of Rob's "SOLID MOD" made this mod stand out.

3rd Place [Jesse Palacio]: Jesse's "Warzone" shows the fascinating modding skills plus a perfect grasp on controlling the space in the mod. Each corner is telling a story!

More information, photos and other content on the event can be found on:
https://rammod.thermaltake.com/2021s1/

Mark of Perfection
The entries were all top quality and have demonstrated their outstanding modding skills. Hence, it was not easy for the panel of judges to select the winners. The judges were required to evaluate and score from four criteria, including Originality, Design Concept, Final Photos and Video Quality. The total percentage of the score allocated to the community voting was 30%, 15% by Thermaltake Judges, 25% by Thermaltake CEO, and 30% by professional modders. After summing up the votes from the judges, the final result pointed to Suchao Prowphong, Rob De Luce, and Jesse Palacio.

For more details of the 2021 Thermaltake RAM MOD Invitational Season 1, please visit:
https://rammod.thermaltake.com/2021s1/
To stay up to date with our modding activities and giveaways, download our Tt MOD APP:
Download Tt MOD App for iOS – https://apple.co/3iRHNon
Download Tt MOD App for Android– https://bit.ly/3gvn6Nj