2020 Thermaltake Neonmaker Lighting Mix Invitational Season 1
Winner Announcement
Congratulations to the Top 3 Winners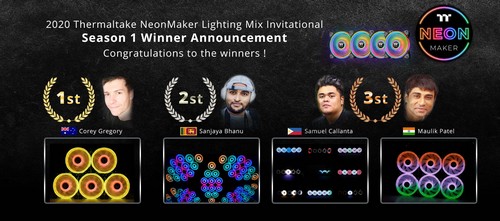 Taipei, Taiwan-April 1st, 2020- Thermaltake, the leading PC DIY brand and the number one choice for PC modders worldwide, is thrilled to announce the first-ever winners' list of the 2020 Thermaltake NeonMaker Lighting Mix Invitational Season 1. Australian modder Corey Gregory who has won first place, followed by Sri Lankan modder Sanjaya Bhanu winning second place, and modders from the Philippines and India, Samuel Callanta and Maulik Patel have won third place together.

2020 Thermaltake NeonMaker Lighting Mix Invitational Season 1 proudly invited ten of the world's top case modders from Australia, Canada, China, Philippines, France, Sri Lanka, India, and the United States to participate in this exciting event. The contestants were required to use the NeonMaker Lighting Software along with Riing Quad Fans to create their light show. They were expected to produce a light show with their original creativity, utilizing the new software, and their artistry.

Thermaltake is grateful to have all modders who have participated in this event to give out their best. Again, Thermaltake would like to congratulate the top three winners and thank all the modders who participated in this event. Everyone did a fantastic job!

2020 Thermaltake NeonMaker Lighting Mix Invitational Season 1 Winner Announcement Video: https://youtu.be/maYfVqOLFUg

Meet the Winners
1st Place Corey Gregory: Simply stacking five Riing quad fans, Corey Gergory has made some exciting lighting effects mimicking particular objects such as candy cane, jellyfish, and fast typewriter. He also made some people inspired effects that represent his personal feeling towards others.

2nd Place Sanjaya Bhanu: By creating a kaleidoscope that surrounded the six Riing quad fans, Sanjaya Bhanu was able to present an explosion of lighting, this type of creativity has won him the second place.

3rd Place Samuel Callanta and Maulik Patel: Samuel Callanta created twelve lighting effects with exciting combinations and different patterns. While Maulik Patel positioned the Riing quad fans differently to create fabulous designs such as the Indian flag and electron. As a result, they have won in ties.

Mark of Perfection
The videos and lighting effects editing skills were all impeccable as to the modder's creative spirits. Hence, it was not easy for the panel of judges to select the winners. The judges were required to evaluate and score four aspects of the participant's videos, including Originality, Utilization, Artistry, and Video Quality. The total percentage of the score allocated to the community voting was 30%, 15% by Thermaltake Judges, 25% by Thermaltake CEO, and 30% by professional modders. After summing up the votes from the judges, the final result pointed to Corey Gregory, Sanjaya Bhanu, Samuel Callanta, and Maulik Patel.

For more details on the 2020 Thermaltake NeonMaker Lighting Mix Invitational Season 1, please visit:
Official Website – https://lightmix.thermaltake.com/index.html
Download modder's profiles: https://lightmix.thermaltake.com/Download.html