Thermaltake Level 20 RGB BattleStation Gaming Desk &
TOUGHRAM RGB DDR4 Memory Launch
Game with Your BattleStation at COMPUTEX Taipei 2019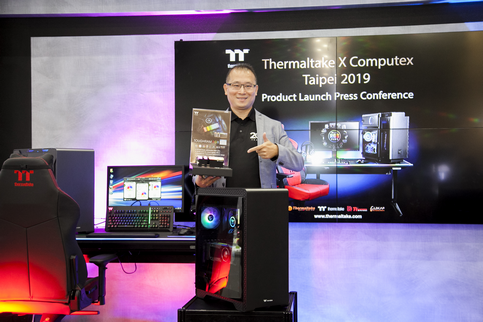 Taipei, Taiwan-May 28th, 2019- Thermaltake, the leading PC DIY premium brand for Cooling, Gaming Gear and Enthusiast Memory solutions, today held the Thermaltake Press Conference at COMPUTEX Taipei 2019. Thermaltake Chairman and CEO Kenny Lin announced the new marketing idea "Game with Your BattleStation" during the press conference. He also revealed the new Level 20 RGB BattleStation Gaming Desk with the A700 Full Tower Chassis, Level 20 RGB Gaming Keyboard, Level 20 RGB Gaming Mouse & Mousepad, H1 RGB Headset & E1 Headset Stand, and X- COMFORT Real Leather Gaming Chair in Burgundy Red. Furthermore, the TOUGHRAM RGB DDR4 Memory 3000/3200/3600 MHz 16GB officially launches at COMPUTEX. The complete BattleStation setup is able to sync with the TT RGB PLUS Ecosystem. This year also marks Thermaltake's 20th Anniversary, and today Thermaltake is proud to be able to provide users the full BattleStation experience. Finally, Thermaltake was also honored with the presence of Taiwan's Minister of Economic Affairs Shen Jong-chin. Thermaltake Chairman & CEO Kenny Lin provided a short booth tour and introduction of Thermaltake's key products at COMPUTEX.

World Top Modders & CaseMOD Masterpieces
World top modders including Mhike Samsin, Jesse Palacio, Corey Gregory, Epic/Crow, Watermod, Stefan Ulrich, Samuel Callanta, Mike Petereyns, Sam Arlian, Michael John Lacerna, Erik Bergwest, Rob De Luce, Suchao, and Indy Laser arrived at the Thermaltake Press Conference with their amazing Level 20 casemod masterpieces.

Thermaltake 2019 COMPUTEX d&i Award
The Thermaltake Level 20 GT ARGB Full Tower Chassis was awarded the 2019 COMPUTEX d&i Awards, and is on display at the COMPUTEX Expo (Nangang Exhibition Center Hall1, I0407).

For more information on Thermaltake Group please visit the Thermaltake booth at COMPUTEX Taipei 2019 (Taipei Nangang Exhibition Center, 4th floor, Booth #M120) or visit https://computex.thermaltake.com/2019/.