Thermaltake Introduces Smart BX1 RGB & Smart BX1 Series Power Supply
Unbeatable Value, Competent Performance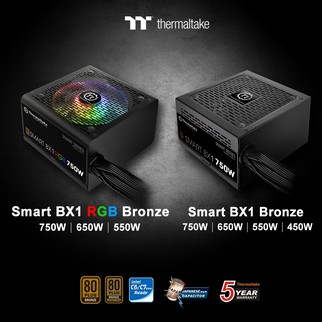 Taipei, Taiwan-November 29th 2018-Thermaltake, the leading premium PC hardware manufacturer, unveils two Bronze-certified power supply series: Smart BX1 RGB and Smart BX1. Smart BX1 RGB covers capacities ranging from 550W to 750W while Smart BX1 is available in 450W to 750W, and both come in two different input voltage settings: 100-240V full range and 230V only.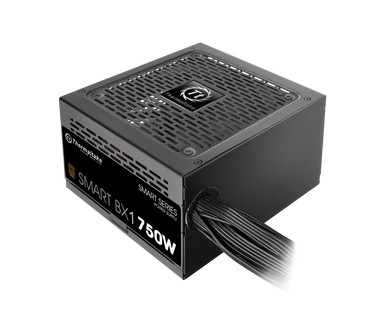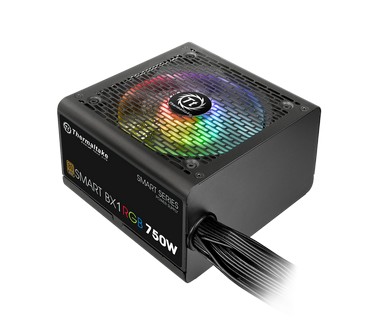 The RGB edition is preinstalled with an RGB fan with 10 LEDs to give three lighting modes, seven color options and an LED Off mode to add vivid illumination to the build at the press of the RGB Lighting button. A memory function is built in to remember users last lighting mode selection even after a PC shutdown. Both lineups feature ultra quiet hydraulic bearing fan with intelligent RPM for superior cooling and silence results, and Japanese Main Capacitor for excellent durability. To ensure best stability and operation, the power output at 40℃ is kept stable and continuous, and the +12V have a maximum ripple of 80mV on +12V, and 40mV for the +5V and +3.3V rails from 0% to 100% load. The trouble free installation and reliable performance have made these new members satisfy the market, where value-oriented users are looking for a power supply with advanced features and aesthetic appeal.

Features of the Thermaltake Smart BX1 RGB (550/650/750W) and Smart BX1 (450/550/650/750W) Series:
10 RGB LEDs Preinstalled
Smart BX1 RGB series comes with 10 RGB LEDs preinstalled on the 120mm fan. Capable of displaying 7 colors(Red, Green, Blue, Yellow, Purple, Light Blue, and White), 3 illumination modes including Pulse, Full-lighted and RGB Cycle, and an LED Off mode.

One Button to Your Desired Color
With Smart BX1 RGB series, adding personal appeal to your build has never been so easy by just pressing one RGB lighting button! There is also a built-in memory function to save the color applied and ensure the same color selection every time you boot your PC.

Ultra Quiet 120mm Hydraulic Bearing Fan
Featuring an 120mm hydraulic bearing fan with intelligent RPM control to guarantee superior cooling performance and silent operation.

Low Ripple Noise
The +12V have a maximum ripple of 80mV on +12V, and 40mV for the +5V and +3.3V rails from 0% to 100% load, while Intel sets the ripple levels of 120mV on +12V rail, and 50mV on +5V and +3.3V rails. Low ripple noise will keep your performance-critical components, such as high-end graphics cards, to operate reliably for longer.

High-Quality Japanese Main Capacitor
Greatly improves the durability and offers the highest stability and reliability.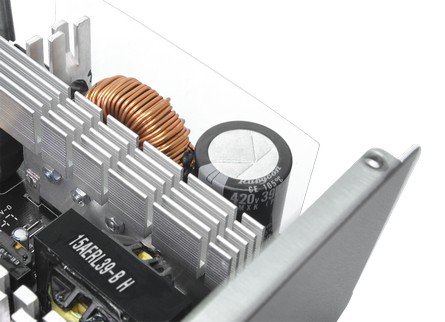 High Amperage Single +12V Rail
Powerful single +12V rail ensures a stable and reliable supply to other PC components.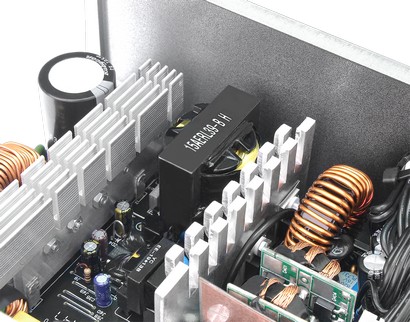 Multiple Connectors
Soft black cables come with sleeve cabling design to make cable installation an easy task while powering the system at an advantageous voltage.

80 PLUS Bronze Certified and Intel C6/C7 States Ready
Saves energy through the high energy efficiency up to 85% and is certified to 80 PLUS® Bronze. It has been optimized to work with all generations of Intel's processors to achieve maximum energy saving.

RGB Lighting Gives Best Aesthetics for All Chassis
Smart BX1 RGB Series is the best idea for users to go with when they are looking for an RGB PSU that permits remarkable functionality and aesthetics in all cases.

Availability, Warranty, Compatibility and Pricing
The new Smart BX1 RGB Series PSUs is now available, and the Smart BX1 Series PSUs will be available in November 2018, via the Thermaltake worldwide network of authorized retailers and distributors. Smart BX1 RGB Series power supplies are backed by a five-year warranty and supported by the Thermaltake worldwide customer service and technical support network. For up-to-date pricing of the new Smart BX1 RGB & Smart BX1 Series 80 PLUS Bronze power supply, please refer to the Thermaltake website or contact your local Thermaltake sales or PR representative.

For more details on Thermaltake Smart BX1 RGB Series (550/650/750W) please visit:
550W – https://www.thermaltake.com/products-model.aspx?id=C_00003263
650W – https://www.thermaltake.com/products-model.aspx?id=C_00003264
750W – https://www.thermaltake.com/products-model.aspx?id=C_00003265
550W 230V– https://www.thermaltake.com/products-model.aspx?id=C_00003266
650W 230V– https://www.thermaltake.com/products-model.aspx?id=C_00003267
750W 230V– https://www.thermaltake.com/products-model.aspx?id=C_00003268

For more details on Thermaltake Smart BX1 Series (450/550/650/750W) please visit:
450W – https://www.thermaltake.com/products-model.aspx?id=C_00003366
550W – https://www.thermaltake.com/products-model.aspx?id=C_00003367
650W – https://www.thermaltake.com/products-model.aspx?id=C_00003368
750W – https://www.thermaltake.com/products-model.aspx?id=C_00003369
450W 230V– https://www.thermaltake.com/products-model.aspx?id=C_00003362
550W 230V– https://www.thermaltake.com/products-model.aspx?id=C_00003363
650W 230V– https://www.thermaltake.com/products-model.aspx?id=C_00003364
750W 230V– https://www.thermaltake.com/products-model.aspx?id=C_00003365