Thermaltake Releases Pacific C and CL Plus RGB Copper Radiators Series
"Pacific C240/C360 & Pacific CL360 Plus RGB Radiators"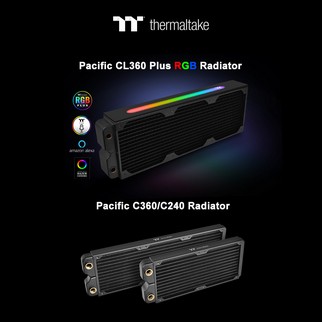 Taipei, Taiwan-October 5th, 2018- Thermaltake launches Pacific C and CL Plus RGB Copper Radiators Series today as additions to the TT Pacific radiators family. Pacific C360 and C240 Radiators are ultra-thin radiators engineered with 27mm thickness radiators along with 12-set flat tube designs and brass tanks, feature unique stainless steel side panels that guarantee durability as well as reduce the weight of the radiator. Also made with copper fin design, Pacific CL360 Plus RGB Radiator is a high-performance 360mm copper radiator with high-density copper fin design, brass tank and a software-controllable 16.8 million colors LED strip that supports TT RGB PLUS software, TT AI Voice Control, and Amazon Alexa Voice Service. All the Pacific copper radiator series utilize soldering processes to efficiently pulling heat away from the power-dissipating components thus achieving maximum heat dissipation at both low and high airflow operations. The radiator comes with a digital lighting controller which allows users to easily set up the radiator. The Pacific CL360 Plus RGB Radiator and Pacific C360/ C240 Radiators cool your systems with style.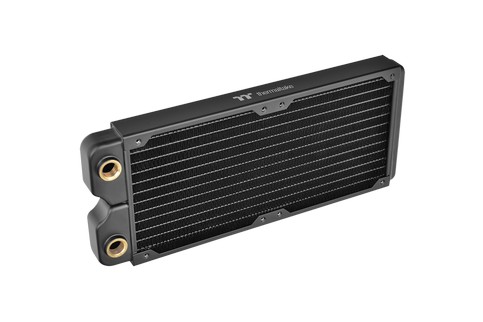 Pacific C240 Copper Radiator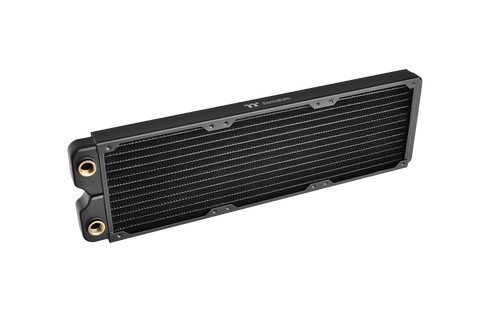 Pacific C360 Copper Radiator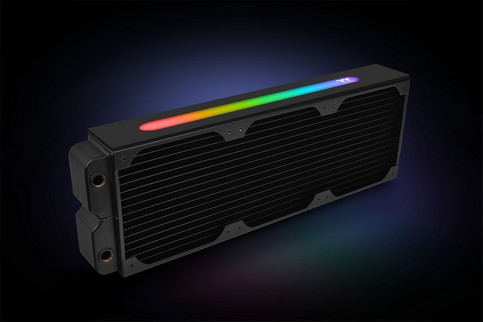 Pacific CL360 Plus RGB Copper Radiator

Thermaltake TT RGB PLUS Ecosystem
TT RGB PLUS Ecosystem is the intelligent lighting system for PCs that combines the most advanced addressable LED lighting with Thermaltake's patented TT RGB PLUS Software and Amazon Alexa Voice Service. TT RGB PLUS ecosystem provides nearly unlimited possibilities for playing with colors, synchronizing lights to games, music, CPU temperatures and other TT RGB PLUS products, including case fans, CPU/VGA water blocks, AIO CPU coolers, PSUs, LED strips, gaming keyboards, headsets, mice and mouse pads. The patented TT RGB PLUS software allows users to change the light modes, colors, speeds, brightness, fan speeds via TT AI Voice Control and Amazon Alexa Voice Service.

Features of the Thermaltake Pacific C360/C240 Copper Radiators:
Tt LCS Certified
"Tt LCS Certified" is the hallmark that ensures first-class performance from the best features and fitment. A certification exclusive to Thermaltake, it sets the benchmark for all true LCS chassis and is applied only to products that meet our stringent design standards for delivering what hardcore enthusiasts demand. The Tt LCS certification is a way for Thermaltake to designate to all power users the chassis which have been tested for best compatibility with extreme liquid cooling configurations.



Optimized Heat Dispatching
The radiators are optimized for efficiently pulling heat away from the power-dissipating components thus achieving maximum heat dissipation at both low and high airflow operation. After soldering, the fin and tube connect to form a joint, thereby creating uniform heat transfer.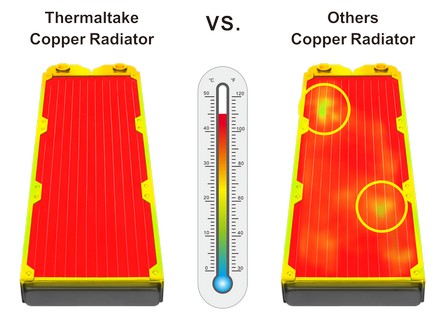 High-Quality Manufacturing Process: Reflow Soldering
An exceptional manufacturing process using high temperature soldering at 482℉/250℃ sets the radiator in a class of its own. This technique allows for impurities to be kept out of the soldering process, ensuring that full strength on all the connected areas is achieved. The radiator is baked through a controlled atmosphere soldering line. The materials melt into each other to accomplish optimal thermal transfer from the tubes to the actual fins in order to attain better heat evacuation.

Slim Form Factor Design
To assure the best thermal capacity and increase heat transfer, the Pacific C360/C240 is engineered with a 27mm thickness radiator along with a 12-set flat tube design and brass tank. This technique allows that water flows down on the one side, and then passes across the bottom chamber before circulating back to the other side of the radiator.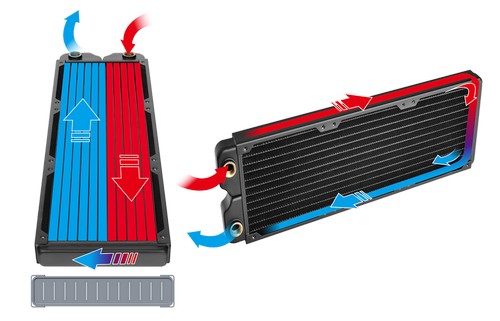 High-Density Copper Fin Design
Fin density is optimally designed to accommodate high air volume (FPI: 17). The performance improves significantly with increased fan speed, offering superior cooling efficiency during operation.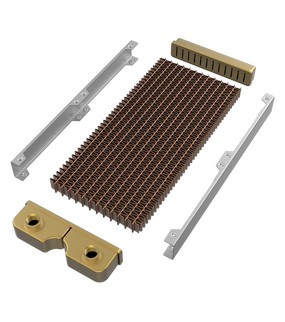 Stainless Steel Side Panels
Unlike most of copper radiators on the market, the radiator utilizes stainless steel made side panels that increase the durability and strength of the radiator while reducing the weight.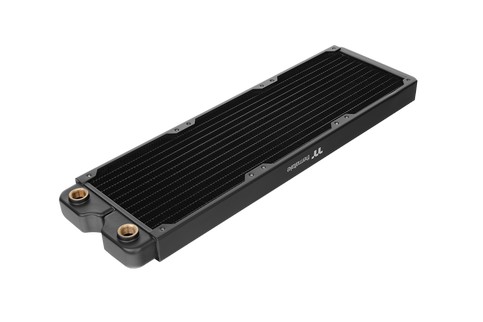 Availability, Warranty, Compatibility and Pricing
The Pacific CL360 Plus RGB Copper Radiator and Pacific C360/ C240 Copper Radiators are now available for purchase, via the Thermaltake worldwide network of authorized retailers and distributors. Radiators are backed by a two-year warranty and supported by the Thermaltake worldwide customer service and technical support network. For up-to-date pricing of Pacific CL360 Plus RGB Radiator and Pacific C360/ C240 Radiators, please refer to the Thermaltake website or contact your local Thermaltake sales or PR representative.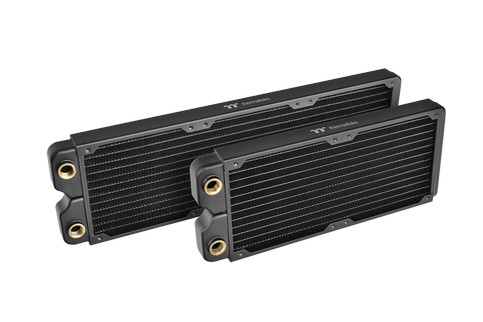 For more details on the Thermaltake Pacific C360 Copper Radiator, please visit: https://www.thermaltake.com/Cooler/Liquid_Cooler_/Radiators/C_00003301/Pacific_C360_Radiator/design.htm
For more details on the Thermaltake Pacific C240 Copper Radiator, please visit:
https://www.thermaltake.com/Cooler/Liquid_Cooler_/Radiators/C_00003300/Pacific_C240_Radiator/design.htm
For more details on the Thermaltake Pacific CL360 Plus RGB Copper Radiator, please visit:
https://www.thermaltake.com/Cooler/Liquid_Cooler_/Radiators/C_00003328/Pacific_CL360_Plus_RGB_Radiator/design.htm
Where to Buy Thermaltake Pacific C240 Copper Radiator:
Where to Buy Thermaltake Pacific C360 Copper Radiator:
Where to Buy Thermaltake Pacific CL360 Plus RGB Copper Radiator: