Thermaltake Announces Partnership with SYNNEX
Delivering the Perfect User Experience to the Asia Pacific Market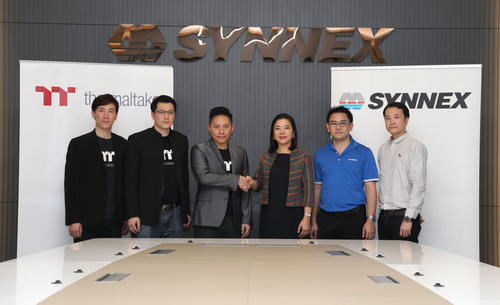 Taipei, Taiwan-September 5th, 2018- Thermaltake is extremely delighted to announce our partnership with SYNNEX, an industry leader in IT distribution of over 30,000 technology products across 300 world leading and emerging manufacturers. This partnership with SYNNEX creates a unique opportunity to close the gap between manufacturer and community, and to provide a one-stop complete solution for our case modding and eSports brands. Most importantly this allows Thermaltake to better execute our mission to deliver the perfect user experience to our customers.

Thermaltake Thailand & Indonesia partnered with Synnex at beginning of 2018 to bring new products: including the View 71 Tempered Glass RGB Edition Full Tower Chassis, Core P5 Tempered Glass Edition/Snow Edition ATX Wall-Mount Chassis, Core P90 Tempered Glass Edition Mid-Tower Chassis, TT Premium X1 RGB Cherry MX Gaming Mechanical Keyboard, analog/digital power supplies, AIO cooler, and coolants. Thermaltake and Synnex will continue providing excellent service and products to even more regions in the Asia Pacific market.

Thermaltake — "Deliver the Perfect User Experience"
Thermaltake is always looking to "Deliver the Perfect User Experience". The challenging, creative and competitive features of the enterprise offer an exciting and fascinating user experience that can be shared by everyone, while allowing users to transcend themselves in terms of function and potential. We have incorporated a composite marketing system by making branch offices and regional distributors the distribution channel. They also act as the technical support and service center to provide direct customer support.

SYNNEX — "Make its Commitments a Reality"
SYNNEX is one of the largest merchandise channels in the globe and also build up their own brand "LEMEL" in 1989. As the giant distributors, Synnex aligns itself with the guiding principles of visibility, velocity and value in order to achieve a maximum benefit to their customers, employees and shareholders all over the world. SYNNEX delivers the finest products and services in the industry and treasure loyalty, teamwork, integrity, and hard work from all of our employees and business partners.