Thermaltake Unveils the New Riing Trio 12 RGB Radiator Fan TT Premium Edition with TT AI Voice Control at COMPUTEX Taipei 2018
The World's First 16.8M Colors LED Fan with Triple Addressable LED Ring Design

Taipei, Taiwan-June 7th, 2018- Thermaltake today introduced the latest Riing Trio 12 LED RGB Radiator Fan TT Premium Edition (3-Fan Pack), the brand's new flagship fan series, at COMPUTEX Taipei 2018. The Riing Trio 12 RGB is also a newly added member of TT RGB PLUS Ecosystem that enables users to control the LED lighting and fan speeds via Thermaltake's patented TT RGB PLUS Software and TT AI Voice Control. In terms of the fan structure, the Riing Trio 12 RGB features a PWM controlled 120mm high-static pressure fan, and triple 16.8 million colors LED rings that are pre-installed with 30 addressable LEDs in total. The long-life hydraulic bearing along with compression fan blade design guarantees the cooling performance without sacrificing quiet operation.

Thermaltake Riing Trio 12 LED RGB Radiator Fan TT Premium Edition (3-Fan Pack) will be available for online ordering on TT Premium shops in early Q3 of 2018. The product availability and price vary by country and region, please contact the local Thermaltake sales representative for further information.

Further information from Thermaltake at COMPUTEX 2018 is available on our dedicated COMPUTEX 2018 website: http://computex2018.thermaltake.com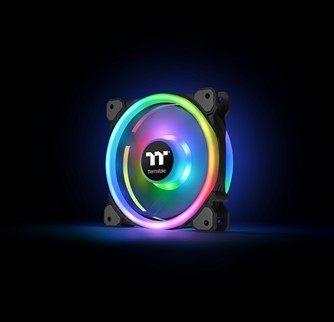 Thermaltake TT RGB PLUS Ecosystem
TT RGB PLUS Ecosystem is the intelligent lighting system for PCs that combines the most advanced addressable LED lighting with Thermaltake's patented TT RGB PLUS Software. TT RGB PLUS ecosystem provides nearly unlimited possibilities for playing with colors, synchronizing lights to games, music, CPU temperatures or other TT RGB PLUS products, including case fans, CPU/VGA waterblocks, AIO CPU coolers, PSUs, LED strips and peripherals. The patented software allows users to change the light modes, colors, speeds, brightness, fan speeds, and even supports AI voice control in iOS and Android devices.

Features of Thermaltake Riing Trio 12 LED RGB Radiator Fan TT Premium Edition (3-Fan Pack):
Patented TT RGB PLUS Software & App
Monitor the fan performance, adjust the fan speeds, and customize the lighting effects for Thermaltake RGB PLUS series products with the patented TT RGB PLUS Software and an exclusively designed mobile app.

SyncALL, Say "Hello TT" – Thermaltake AI Voice Control
Talking to TT RGB PLUS App is an easier, faster way to set lights for your systems. You can ask it to turn the lights on or off, switch lights modes, dim the lights, change light colors, or adjust lights speeds or fan speeds.

16.8 Million Colors LED Design
Featuring 30 addressable LEDs, great light coverage, and uniform color and brightness, the built-in LED ring can paint your build with 16.8 million colors.

Digital Lighting Controller
The controller is designed with a DIP switch on the back. Hence, you can set a number for each controller easily. You can add up to 5 devices to one lighting controller and up to 16 controllers to the software. The controller and the coding guide are included in all packs.

9 Fan Blade Design
120mm fan with unique 9 blades design is engineered to generate higher airflow without compromising on ultra-silent operation.

Hydraulic Bearing with Low-Noise Design
The hydraulic bearing self-lubricates with a high-quality, friction-reducing substance, which lowers operation noise while improving thermal efficiency. The seal cap prevents lubricant leakage and extends the lifespan of the unit.

Anti-Vibration Mounting System
In-mold injection anti-vibration rubber pads provide a hassle-free usage with 80% protection coverage for all corners.