Thermaltake Announces Toughpower iRGB PLUS Platinum Series Power Supply Unit – TT Premium Edition
16.8 Million-Color RGB Power Supply with 7 Lighting Modes

Taipei, Taiwan-October 24th 2017-Thermaltake has expanded the Toughpower iRGB PLUS family with Toughpower iRGB PLUS Platinum Series Power Supply Unit- TT Premium Edition, which includes three models with capacities ranging from 850W to 1200W. In addition to the great build quality, the Platinum-certified series packs the patented ultra-silent, 16.8 million-color Riing 14 RGB fan and 12 controllable single LEDs with seven lighting modes (Full lighted, Flow, RGB Spectrum, Ripple, Blink, Pulse and Wave), plus the support for three of Thermaltake's intelligent platforms – New DPS G PC APP 3.0, DPS G Smart Power Management (SPM) Cloud 1.0, and DPS G Mobile APP 1.0 – to help users monitor smart power supply units, save energy and stay green.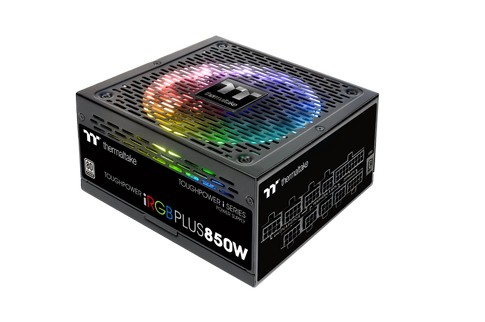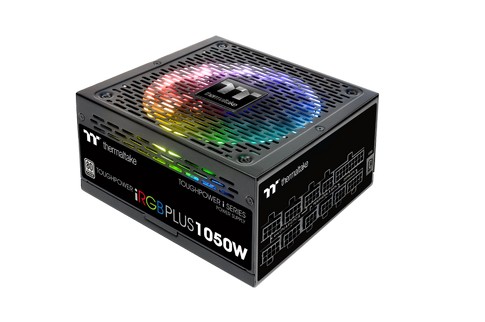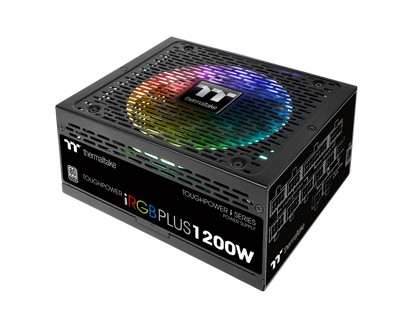 The fully modular members offer excellent ripple suppression and steady voltage output, thanks to the new circuit design with PFC & LLC digital controllers; the application of Smart Zero Fan and 100% high quality Japanese brand capacitors has given the new series amazing reliability, stability and very silent operation. The 850/1050W unit even features a compact depth of 160mm to allow users for high compatibility with more room for cable routing, cooling and more. Backed up by a hefty 10-year warranty, the Toughpower iRGB PLUS Platinum Series Power Supply Unit permits a captivating way to make users systems match their intended color scheme and gives best-in-class, mute operation for all kinds of chassis.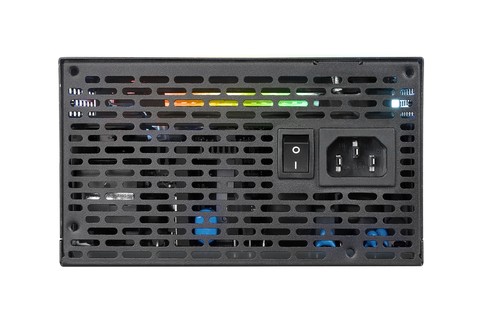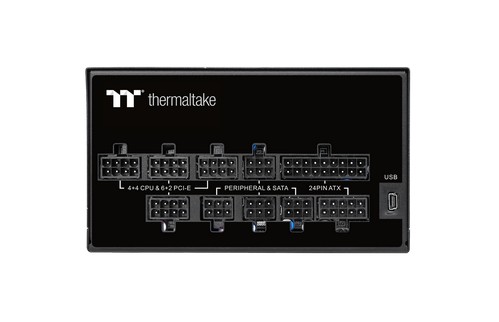 What is Smart Power Management (SPM)?
Thermaltake would like to raise the awareness on global warming issue to all PC DIY/ PC users through Smart Power Management (SPM) platform. SPM is a cloud computing platform that tracks and analyzes PC electricity consumption, allows user to observe and learn their own energy consumption whereby alter their behaviour to achieve the goal of reducing CO2 emission together to contribute on slowing global warming.

Features of the Toughpower iRGB PLUS Platinum Series (850W/1050W/1200W) Power Supply Unit TT Premium Edition:
DPS G Smart Power Management Cloud 1.0: Smart Power Management Reports
All the data will be summarized into four different types of reports, including ECO Report, Energy Consumption Report, Energy Saving Plan and Efficiency/Wattage User Behavior Report. The aim of the first two reports is helping users to understand the detailed information about CO2 emission and energy consumption of their PSUs by comparing current data with the previous 3 months. Moreover, through the Energy Saving Plan, users can simply save the money by setting the goal of how much kWh they plan to consume within a specific period. Lastly, the Efficiency/Wattage User Behavior Report will display the watts consumption and efficiency of each PSU in a dot chart; therefore, users can easily understand the distribution range of their power consumption. Most importantly, the report will base on the data and recommend suitable power supply wattages to optimize the efficiency.

DPS G Mobile APP 1.0: Warning Alert & PC Off Remote Control
The Real-time warning alert will be sent out from DPS G PC APP 3.0 to the SPM once the fan fails, the temperature is overheated (over 140℉/60℃) or even the voltage is over/under 5% of the normal voltage level. Meanwhile, the SPM will push the warning message to DPS G Cloud Management and Mobile APP 1.0 immediately to notify the users. Then, users can use PC Off Remote Control function on the mobile app to turn off the computer remotely to minimize any potential damages can be caused by PSU failures. The PC Off Remote Control also allows users to arrange a scheduled shutdown for the system to save energy and electricity cost.

DPS G PC APP 3.0: Smart Zero Fan
Aside from the silent and performance mode, DPS G PC APP 3.0 comes with the new Zero Fan mode to minimize the audible noise of your PC. The fan will be turned on around 40% of rated load to optimize the thermal performance and minimize the audible noise.

Easy to Get Your Desired Color
Through DPS G PC APP 3.0, the 16.8 million color Riing 14 RGB fan can be switched among Full lighted, Flow, RGB Spectrum, Ripple, Blink, Pulse, Wave, and Off mode, and each lighting mode features four light speed options (Slow, Normal, Fast and So Fast). The app also allows users to customize the RGB lighting remotely for their power supply fan, and even let the LED dance in sync with the beat. Making your systems match the color scheme you want has never been so easy!

Patented 16.8 Million Colors Riing PLUS 14 RGB Fan
The Toughpower iRGB PLUS Platinum Series is installed with a patented circular 16.8 million multi-colored 140mm fan. Users can freely adjust fan speed and customize the lighting effects with DPS G PC App.

12 Addressable RGB LEDs at Your Control
Featuring 12 addressable single LEDs, great light coverage, uniform color and brightness, users are allowed to easily configure the RGB lighting and freely adjust fan speed with Thermaltake DPS G PC App.

Security Protection – Warning Alert & PC Off Remote Control
The SPM platform provides three alert functions: fan failure, over temperature (over 140℉/60℃), and abnormal voltage level (over/under 5% of normal level) warning alert. That will help users to reduce the possibility of overheating your internal components and burning the PC. When the abnormal activities occur, the warning message will be pushed to the mobile devices and email. The SPM platform allows users to turn off the computer remotely via mobile app when users receive the warning message.

Security Protection – Schedule Shutdown
The Smart Power Management platform allows users to schedule the system to shutdown remotely through mobile App or cloud management. To save the energy and electricity cost, users could arrange the schedule to shutdown the system when the process is complete.

Compact Design for Easy Integration
With its short depth of 160mm form factor, Toughpower iRGB PLUS 850/1050W Platinum gives high compatibility to allow users for more room for cable routing, cooling and more.

New Platform for Better Ripple Noise Performance and Steady Voltage Output
All new circuit design with PFC & LLC digital controllers efficiently reduces ripple noise and gives steady voltage output.

< 30 mV Low Ripple Noise
All ripples are lower than 30mV for high stability on +12V, +5V, or +3.3V from 0% to 100% load to ensure a high quality power supply. Low ripple noise will keep your performance-critical components, such as high-end graphics cards, to operate reliably for longer.

Extremely Strict Voltage Regulation < ±2%
The voltage regulation of the PSU is set to no more than ±2% for major rails to meet the highest performance. The strict voltage regulation of the Toughpower iRGB PLUS Platinum Series is better than Intel's standard ±5% for major rails and ±10% for -12V.

100% High Quality Japanese Capacitors
The Toughpower iRGB PLUS Platinum Series features 100% high quality Japanese brand capacitors, which greatly improves the durability and offers the highest stability and reliability.

Fully Modular Cable Design
Fully modular power supply offers cable selection for users while powering the system at an advantageous voltage. Flat cable makes cable management easier, reduces clutter and increases airflow inside the chassis.

Core Component: MCU
Toughpower iRGB PLUS Platinum Series comes with a 32Bit Microcontroller Unit (MCU) from Microchip Technology. The 32Bit MCU is a small computer on a single integrated circuit containing a processor core, memory, and programmable input/output peripherals. MCU can digitally control devices and processes, such as automobile engine control systems and office machines.

Digital Control Board
Digital power supplies sport high-efficiency switching transistors that perform only necessary steps and waste less energy given off as heat. In short, digital power supplies do not dissipate power, which creates waste, and incorporate smaller, lighter transistors. Using smaller parts that work more efficiently enables Thermaltake to craft smaller and lighter power supplies, typically one of the bulkiest components in any PC.

80 PLUS Platinum-Certified and Kaby lake-Ready
Toughpower iRGB PLUS Platinum Series Power Supply with DPS G software delivers up to 94% efficiency under real-world load conditions, promising the lowest power losses. Additionally, this series has been optimized to work with Intel's new, seventh-generation Kaby lake processors to achieve maximum energy savings.

TT Power VR Ready
Toughpower iRGB PLUS Platinum Series offers stable and sufficient output voltage for multiple VGA cards and high Capability of different VGA cards for VR system.

For more details on Thermaltake Toughpower iRGB PLUS Platinum Series (850W/1050W/1200W) - TT Premium Edition, please visit:
850W- http://www.thermaltake.com/Power_Supply/Toughpower_Series_/Toughpower_iRGB_PLUS/C_00003139/Thermaltake_Toughpower_iRGB_PLUS_850W_Platinum_TT_Premium_Edition/design.htm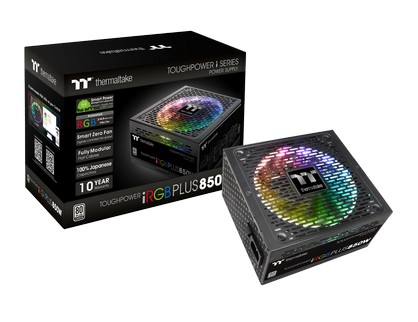 1050W- http://www.thermaltake.com/Power_Supply/Toughpower_Series_/Toughpower_iRGB_PLUS/C_00003141/Thermaltake_Toughpower_iRGB_PLUS_1050W_Platinum_TT_Premium_Edition/design.htm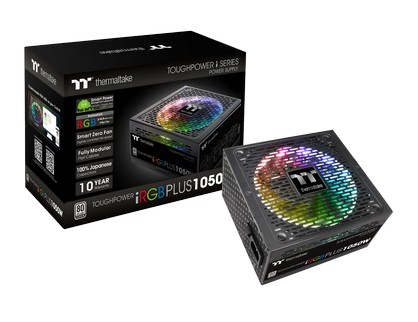 1200W- http://www.thermaltake.com/Power_Supply/Toughpower_Series_/Toughpower_iRGB_PLUS/C_00003139/Thermaltake_Toughpower_iRGB_PLUS_850W_Platinum_TT_Premium_Edition/design.htm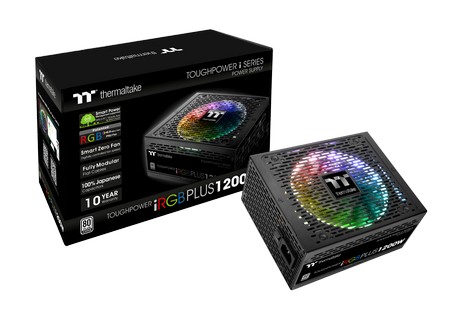 Where to buy:
Thermaltake Toughpower iRGB PLUS Platinum 850W - TT Premium Edition
USA- http://ttpremium.com/product/thermaltake-toug…-premium-edition/
EU- https://ttpremium.eu/product/tpi-0850f2fdp/
AU- https://ttpremium.com.au/product/tpi-0850f2fdp/
TW- https://ttpremium.com.tw/product/tpi-0850f2fdp/
Asia- https://asia.ttpremium.com/product/tpi-0850f2fdp/

Thermaltake Toughpower iRGB PLUS Platinum Series1050W - TT Premium Edition:
USA- http://ttpremium.com/product/thermaltake-toug…-premium-edition/
EU- https://ttpremium.eu/product/tpi-1050f2fdp/
AU- https://ttpremium.com.au/product/tpi-1050f2fdp/
TW- https://ttpremium.com.tw/product/tpi-1959f2fdp/
Asia- https://asia.ttpremium.com/product/tpi-1050f2fdp/

Thermaltake Toughpower iRGB PLUS Platinum Series1200W - TT Premium Edition:
USA- http://ttpremium.com/product/thermaltake-toug…-premium-edition/
EU- https://ttpremium.eu/product/tpi-1200f2fdp/
AU- https://ttpremium.com.au/product/tpi-1200f2fdp/
TW- https://ttpremium.com.tw/product/tpi-1200f2fdp/
Asia- https://asia.ttpremium.com/product/tpi-1200f2fdp/