Thermaltake Introduces a High-end Wireless Headset –
ARGENT H5 RGB Wireless Gaming Headset
Game with Modern Aesthetics

Taipei, Taiwan-March 3rd, 2022-Thermaltake, the leading PC DIY premium brand for Case, Cooling, Gaming peripherals and enthusiast memory solutions, is pleased to announce the release of high-quality wireless headsets to the TT Gaming family - ARGENT H5 RGB Wireless Gaming Headset, offering fabulous sound performance without bothersome wires.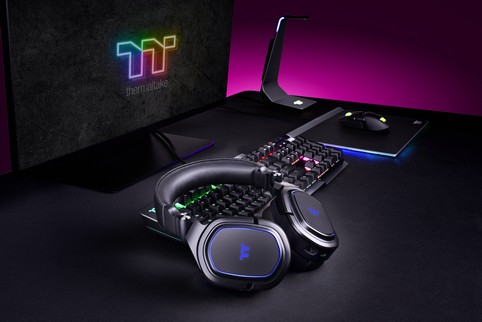 The ARGENT H5 RGB Wireless Gaming Headset can be connected via 2.4GHz wireless or a 3.5 mm cable; it's charged via a USB connection, which allows the gaming headset to run up to 10 hours of battery life with RGB lighting, and 19 hours without switching on RGB lighting. The wireless gaming headset provides more flexibility so users can enjoy playing games, listening to music or watching movies at a longer distance as the wireless range is up to 10 meters.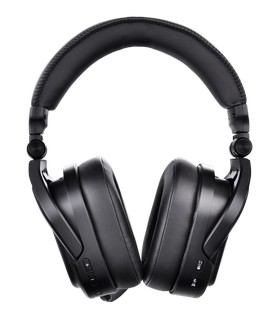 Featuring next-generation DTS Headphone: X v2.0 surround sound, and 40mm Hi-Res drivers, the ARGENT H5 RGB Wireless Gaming Headset delivers ultimate sound performance. Besides that, users can make adjustments through the buttons on the headset easily, functions include power on/off, volume, DTS 7.1 sound control, battery status, mute-microphone and game/chat balance control. Other merits include a bi-directional microphone for excellent voice clarity, 15 level headband adjustments for fitting any head size, and easy-to-carry ear cups thanks to its swivel- inward design.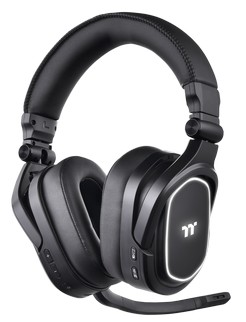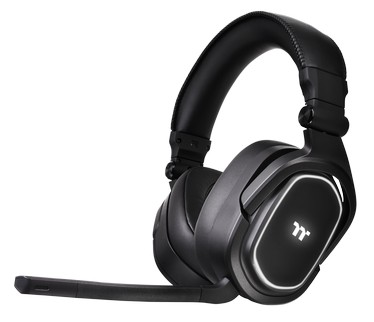 In addition to the excellent sound performance, the ARGENT H5 RGB Wireless Gaming Headset also enhances the overall aesthetics by featuring 16.8 million true RGB color illumination across two zones to give gorgeous and highly-personalized lighting effects. Working with the iTAKE engine software and TT RGB PLUS, users may synchronize RGB lighting effects on their TT gaming peripherals or other TT PC components. What's more, the ARGENT H5 RGB Wireless Gaming Headset is compatible with PC, Xbox One®, PS4™ (3.5mm wired mode only), Mac®, Mobile and Nintendo Switch, users can immerse themselves with the best wireless gaming headset on multi-platforms!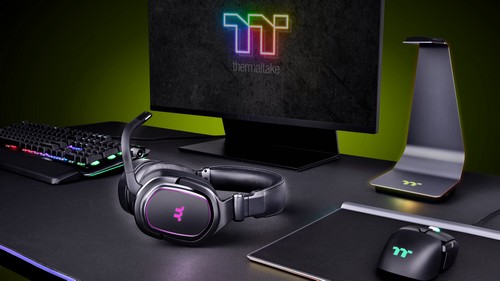 Features of the Thermaltake ARGENT H5 RGB Wireless Gaming Headset:
Connection Modes
Supports 2.4GHz wireless, 3.5mm and USB charging mode. On 2.4GHz wireless, for up to 10 hours with lighting, or 19 hours* with lighting turned off. The 3.5mm analog input gives you the freedom to play wired—on console, mobile or PC—without using battery power.
*May vary based on computing conditions. Battery life is based on headset volume set to 50%.

SUPPORTS DTS Headphone: X v2.0
Experience DTS® Headphone: X v2.0* surround sound and EQ presets, which performs with greater precision than standard 7.1 channel surround sound. Accurate in-game spatial awareness allows you to clearly detect position and distance in a complete 3D soundscape. Hearing your surroundings clearly can be the difference between victory and defeat.
*Download DTS 7.1 surround sound driver upon iTAKE engine software launch.
*System Requirements: Windows 10 version 18362.0 or higher (x64, x86).

40MM Hi-Res DRIVERS
The 40mm Hi-Res* drivers minimize distortion while producing clear and precise sounds at both low and high frequencies, ranging from 20Hz - 40kHz. Audio quality is softer and more wide ranged, thus providing users with greater clarity and detail when playing games, watching movies or listening to music.
*Hi-Res supports 3.5mm wired mode only.

Software Support
iTAKE Engine Software
Adjust brightness, speed and direction of the RGB lighting effects; customize lighting effects and SyncALL RGB colors of all your Thermaltake Gaming Peripherals via the TT SYNC function, creating one complete ecosystem.
* iTAKE software is only compatible with Windows 10 or Windows 11.

TT RGB Plus Compatible
Sync all TT RGB PLUS compatible power, liquid cooling, case fans, and Thermaltake Gaming product lines for seamless color coordination of your ecosystem.
*This feature is enabled via TT RGB PLUS software, and at least one Thermaltake TT RGB PLUS product is required.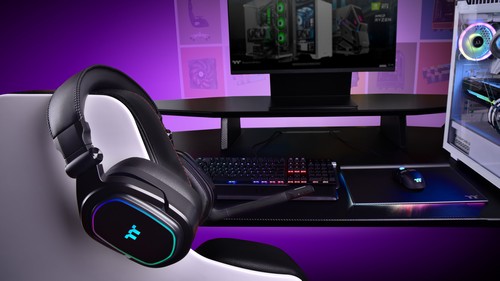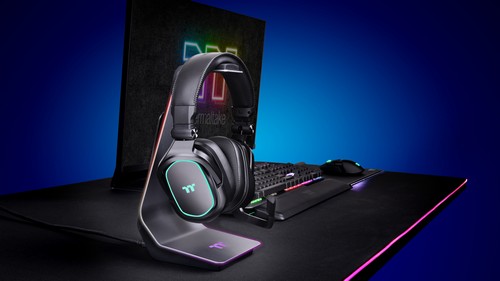 Availability, Warranty, and Pricing
The ARGENT H5 RGB Wireless Gaming Headset will be available for purchase in March 2022. Gaming Headsets are backed by a two-year warranty and supported by the Thermaltake worldwide customer service and technical support network. For up-to-date pricing of the new gaming headsets, please refer to the Thermaltake website or contact your local Thermaltake sales or PR representative.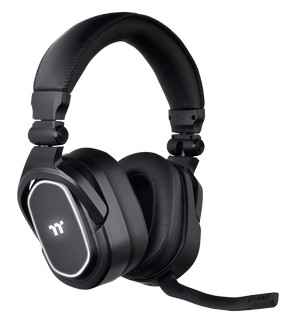 For more detailes on Thermaltake ARGENT H5 RGB Wireless Gaming Headset, please visit:
https://www.thermaltake.com/argent-h5-rgb-wireless-gaming-headset.html

Buy links:
TT Premium Global - https://www.ttpremium.com/product/argent-h5-rgb-wireless-gaming-headset/
TT Premium Europe - https://ttpremium.eu/argent-h5-rgb-wireless-gaming-headset.html
TT Premium Australia - https://ttpremium.com.au/argent-h5-rgb-wireless-gaming-headset.html
TT Premium Asia - https://asia.ttpremium.com/argent-h5-rgb-wireless-gaming-headset.html