2022 Thermaltake Expo January Thermaltake Expands The Tower Series by Adding The Tower 500 Mid-Tower Chassis Comes in Black and Snow Editions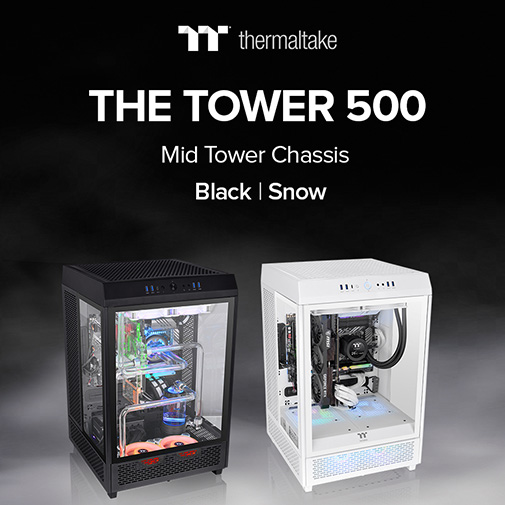 Taipei, Taiwan-January 5th, 2022-Thermaltake, the leading PC DIY premium brand for Cooling, Gaming Gear, and Enthusiast Memory solutions, is thrilled to bring out The Tower 500 Chassis Black and Snow Editions, the first mid-tower form factor in The Tower series, at the 2022 Thermaltake EXPO January Virtual Exhibition.
Inheriting the well-known vertically-designed appearance beloved by users, The Tower 500 comes in the size of (H)608 x (W)388 x (D)388 mm, which is bigger than The Tower 100 Mini-Tower chassis but smaller than the Tower 900 Supper-Tower chassis. Like other The Tower series models, The Tower 500 provides panoramic viewing by featuring three 4mm tempered glass windows at the front, left, and right sides. This moderate-size chassis has great hardware expandability which is capable of fitting an E-ATX (12" x 13") motherboard, up to eight 3.5" HDDs, a 355 mm long triple-slot VGA cards; whilst providing a wide-range of opportunities when selecting cooling components, including a 275 mm tall CPU cooler, and up to eight 120 mm or six 140 mm fans. Other than that, both AIO cooling parts and DIY cooling configurations will fit as the interior capacity allows users to place a 280 mm radiator on the top and 240 mm on the bottom. It is also easier for users to figure out how to route the tubes with a water block and radiators on the same side of the chassis thanks to its spacious interior design. All your powerful and gorgeous components will be well-presented through its panoramic view.
The Tower 500 Mid-Tower Chassis is expected to be available for purchase in Q2 2022. For all PC enthusiasts, especially those who love The Tower product line, please stay tuned on the first Mid-Tower of the series!
2022 Thermaltake Expo January
• Exhibition Period: 1/4 – 1/7 Global Live Stream
•
Thermaltake Facebook Page
•
Thermaltake Global YouTube Channel
•
Event Microsite
TT Premium
To continue achieving the corporate mission of delivering the perfect user experience, Thermaltake developed "TT Premium" with the essence of combining supreme quality products with a new logo design. TT Premium is far more than just a guarantee of quality. Behind the name, it represents the passion in DIY, Modding and Thermaltake's desire to be the most innovative brand in the PC hardware market. To satisfy the demand of the high-end PC users, TT Premium follows its core values of Excellent Quality, Unique Design, Diverse Combinations and Boundless Creativity to provide a high performance PC product for every enthusiast.