Thermaltake Coolers now support Intel LGA 1700 Socket
A total of 47 cooling products are compatible


Taipei, Taiwan-October 27th, 2021-With Intel announcing their launch of the new 12th generation CPU, Thermaltake, the leading PC DIY premium brand for Cooling, Gaming Gear, and Enthusiast Memory solutions, has been working hard to fulfill users' demanding needs for high-end cooling performance, and has announced that a total of 47 cooling products now support the new Intel LGA 1700 socket. Regardless of air coolers, All-in-one liquid coolers, or custom liquid cooling components, there are multiple choices for users to choose from. For those aiming to build a high spec PC that requires outstanding cooling performance, don't miss out on Thermaltake's two extended series originated from the well-loved TOUGHFAN series, the TOUGHAIR series, and the TOUGHLIQUID ARGB Series.

The TOUGHAIR Series are CPU air coolers with three different models, the TOUGHAIR 110, TOUGHAIR 310, and TOUGHAIR 510. Powered by optimized high static pressure fans with the same design concept as the TOUGHFAN 12 fans, combined with specially designed asymmetric fin structure and copper heat pipes on the heatsinks, the TOUGHAIR series can genuinely be the ultimate thermal solution for a new next-generation build.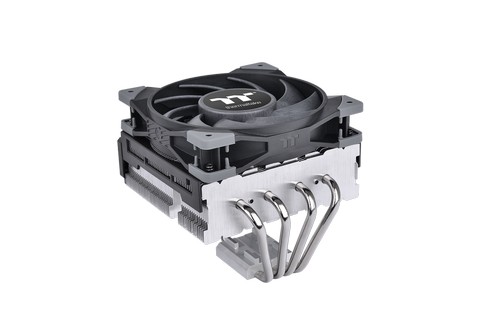 TOUGHAIR 110 CPU Air Cooler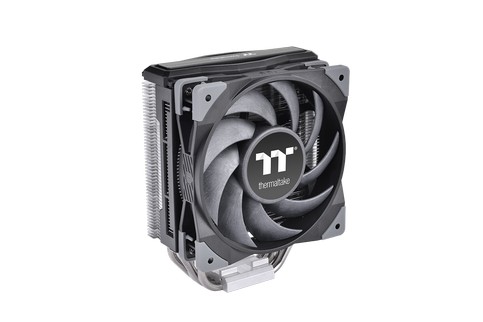 TOUGHAIR 310 CPU Air Cooler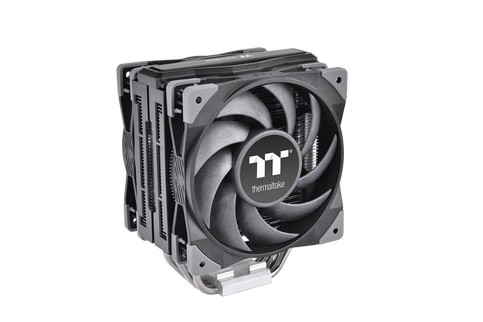 TOUGHAIR 510 CPU Air Cooler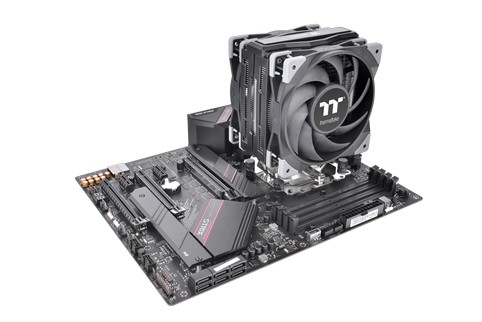 The TOUGHLIQUID ARGB Series are All-in-one liquid coolers with three models, the TOUGHLIQUID 240 ARGB, TOUGHLIQUID 280 ARGB, and TOUGHLIQUID 360 ARGB. The TOUGHLIQUID ARGB Series is a TOUGHFAN equipped series that supports 5V RGB compatible motherboards, allowing users to control the 6 LEDs under the rotational cap. Users can also switch up lighting effects with the built-in controller on the water block.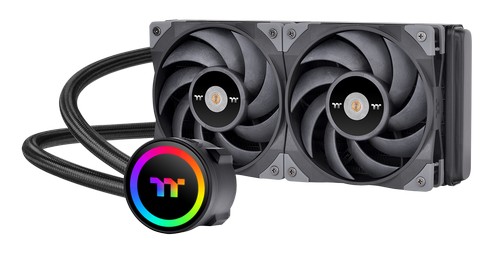 TOUGHLIQUID ARGB 240 All-in-one Liquid Cooler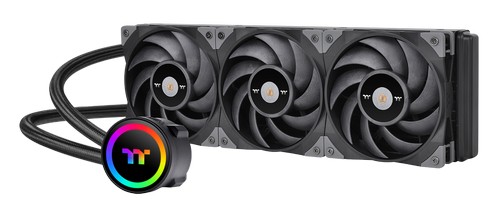 TOUGHLIQUID ARGB 360 All-in-one Liquid Cooler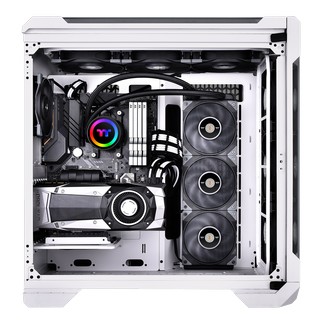 To support the latest Intel LGA 1700 CPU socket, an upgraded mounting kit is required for your choice of Thermaltake compatible coolers; please contact your local Thermaltake representative office or resellers for more details.

For more product information, please visit:
https://www.thermaltake.com/thermaltake-support-intel-lga1700-socket

Features of the TOUGHAIR Series CPU Air Coolers:
120mm High Static Pressure Fans
Born from the same design concept as the TOUGHFAN12, the TOUGHAIR is equipped with high-quality PWM-controlled fans of up to 2000 RPM. The high air pressure and airflow fans on the TOUGHAIR's fans are also built with liquid crystal polymer (LCP) fan blades and are secure with an anti-vibration mounting system.

Copper Heat-Pipes (110 Only)
4 x Ø6 mm heat pipes directly touch the CPU and thermal paste, providing direct and outstanding heat dissipation to the CPU.

U Shape Copper Heat-Pipes (310/510 Only)
Featuring four high-performance U-shape copper heat pipes that directly contact the CPU, ensuring the heat pipes absorb the most heat from the CPU, producing the best cooling performance.

Asymmetric Fin Structure
The fin is designed with an asymmetric structure that allows larger air intake through the fins. This design lowers the air turbulence and straightens out the airflow making it easier to disperse heat from the fins, delivering superb cooling performance.

Features of the TOUGHLIQUID ARGB Series All-In-One Coolers:
Motherboard Sync
TOUGHLIQUID ARGB series supports 5V RGB compatible motherboards, allowing users to control lighting effects with their motherboard's software.

TOUGHFAN Equipped
The TOUGHLIQUID ARGB Series are equipped with TOUGHFANs, which provides a fan speed of up to 2000 RPM, ensuring the best cooling results.

High-Performance Controller built-in Waterblock
The water block has a high-performance copper base plate that accelerates heat conductivity, and the pump could ensure maximum water circulation, keeping the copper plate and CPU continuously cool. The water block also has a built-in controller that allows users to switch between seven different lighting effects and change lighting colors and lighting speeds.

Thermaltake Cooling Product Support List:


Air Coolers:
TOUGHAIR 110/310/510
UX210 ARGB Sync, UX100/UX200 High Air Flow CPU Cooler
Contac 9, Contac Silent 12

All-in-one Coolers:
Floe RC Ultra 240/360 CPU & Memory AIO Liquid Cooler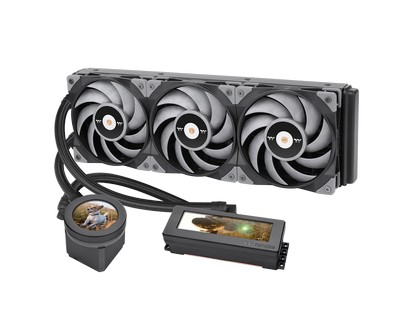 TOUGHLIQUID Ultra 240/360 CPU AIO Liquid Cooler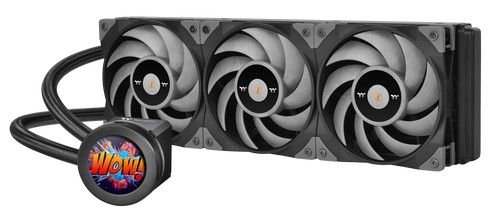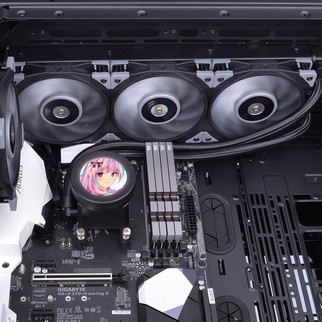 TOUGHLIQUID 240/280/360 ARGB Sync
Floe RC 240/360 CPU & Memory AIO Liquid Cooler
Floe RC 240/360 CPU & Memory AIO Liquid Cooler Snow Edition
TH 120/240/360 ARGB Sync
TH 240/360 ARGB Sync Snow Edition
Floe DX RGB 240/280/360
Floe Riing RGB 240/280/360
Water 3.0 120/240/360 ARGB Sync
Water 3.0 Ultimate
Water 3.0 Performer C
Water 3.0 Extreme S

Liquid Cooling Products:
Water Block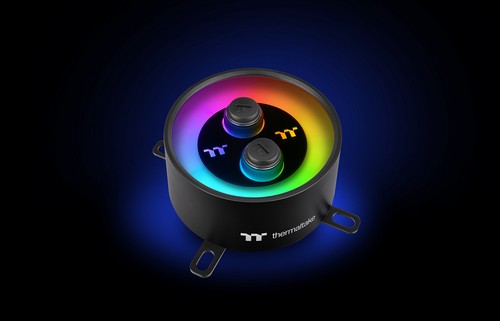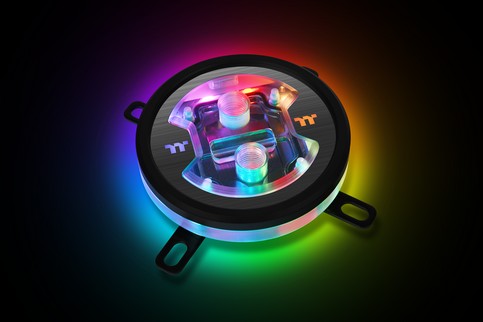 Liquid Cooling Kit
Pacific TOUGH C240/C360 DDC Hard Tube LCS Kit
Pacific CL360 Max LCS Kit
Pacific C240/C360 DDC Hard Tube LCS Kit
Pacific C240/C360 DDC Soft Tube LCS Kit